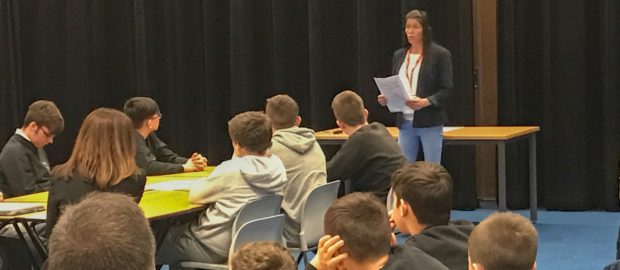 Around 40 local teenagers at Craigroyston High School took part in an education session yesterday about the dangers of joyriding on motorbikes.
The family of teenager Brad Williamson, who died following a collision last year spoke to the group as part of the session.
Brad, 14, died when the bike he was riding collided with a car in June.
The youngster died  from severe bleeding of the brain.
As well as the talk from Brad's aunt, Louise Williamson judo star Steph Inglis also provided an input.
Brad's aunt Louise Williamson then spoke to the pupils about the impact the teenager's death has had on their family.
Click below to listen:
She said "Brad was a normal 14-year-old lad who enjoyed hanging out with his mates and his cousins.
"He also liked new clothes and charming girls with his chat.
"On the run-up to the accident Brad had a motorbike and on the day of the accident I met him in the street.
"I spoke to him for a few minutes then he went on his way.
"I live near where I last spoke to him and within a few minutes, a neighbour shouted that he had been involved in an accident.
"That's how quickly it happens.
"He was taken to the hospital and put in an induced coma.
"For the next nine hours they couldn't control the blood loss from Brads brain.
"There was about sixteen of his family all sitting in silence in the room, we were all in shock.
"It was the worse night of our lives.
"Then the consultant broke the news to us that there was nothing they can do.
"We then had a few hours to say goodbye to our beloved Brad before he passed away.
"The long-term impact on my family is not over by a longshot.
"We are all broken hearted.
"We as a family know that peer pressure paid a part in the accident that day, by the text messages on his phone.
"If I can ask you all to envisage how would your family feel if that was you.
"My family don't want to see any other family endure the same as us.
"It's been a shocking and sad time as we have lost a special and precious boy.
"Brad's life ended for a moment's thrill.
"He will never get to experience his dreams of becoming a soldier or a youth worker.
"I hope this has made you all realise how dangerous motorbikes are and how this affects families when it goes wrong."
Police Scotland continue to tackle the issue of motorbikes and joyriding in our area.
If you have any concerns regarding this you can call them on 101 or Crimestoppers on 0800 555 111