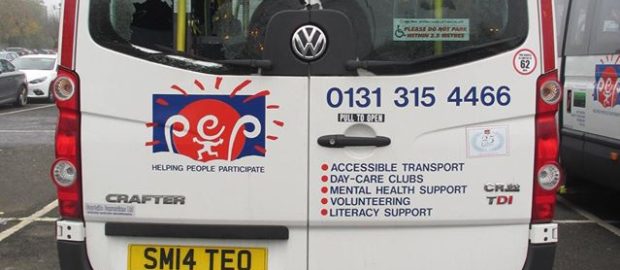 Pilton Equality Project's minibuses have been vandalised – AGAIN. It's the second incident in the space of a week, and the north Edinburgh community project is appealing for help.
A PEP spokesperson said:
"Monday morning started badly for PEP with two more of PEP's bus fleet having been vandalised. Again both buses had the back windows smashed out with the large rocks used clearly on show.
"Not only that, but it seems that one of the buses also had an attempted break in. The vehicles battery was flat with the side door alarm sounding; and a suspicious 'boot print' high up on the door as if kicked violently.
"Yet again this is having a devastating effect on our ability to run a service for the local community … yet again the police have been notified. Please help us stop this senseless destruction!"
They also added
"We have scoured North Edinburgh to find parking facilities but there is nowhere available. Our original secure parking through the Council was withdrawn due to proposed new housing development"
A local resident said
" It's shocking that PEP have been targeted again, they work with some of the most vulnerable residents"
" Maybe the council need to help the project get secure parking"