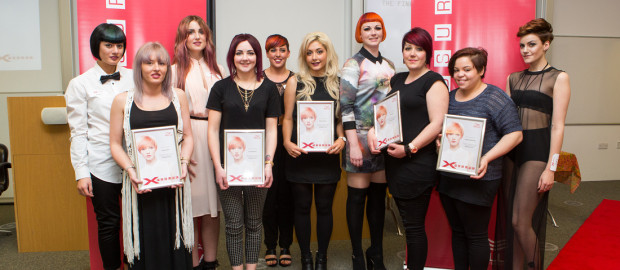 Edinburgh College hosted the Scottish regional heat of the Wella Xposure competition to find the UK's top young hair stylists, with 20 students competing for a place in the final.
Students from colleges across Scotland came to Edinburgh College's Hair and Beauty Academy for the competition, carrying out cut and colours on models using Wella products. Three expert judges from leading hairdressers watched the students work and, after the models took to the catwalk, selected their winners.
The judges were drawn from top Scottish salons – Jamie McDonald, from Cheynes Hairdressing, Khaliegh Sullivan from Patterson SA Hairdressing and Sammy Galloway from McIntyre's Salons – chose five winners to go forward to the UK final. The final will take place in Wella's London studio in June, where a prize of £1,000 of Wella vouchers and a salon toolkit worth £500 is up for grabs.
The students chosen to compete in the final were: Marisa Sonkur, Borders College; Laura Bowman, Fife College; Hayley Rollo, Fife College; Zoe Coull, Moray College UHI; Shannon Devenney, South Lanarkshire College.
Judge Jamie McDonald said that the competition "was really good. The standard of work is just awesome. It's great to see the college supporting these kids and giving them a chance to be exposed to the bigger hairdressing world. Competitions like this let students see where they can actually go out in the world when they finish college."
Jamie was also impressed by the Hair and Beauty Academy facilities on offer at the college's Granton Campus, adding: "The college is phenomenal. Last time I was here two years ago I thought it was amazing, and the work the college has done in the salons since is really brilliant.
"Again, it gives the students the chance to see what it's really like to work in a salon environment as opposed to the training room through the back and gives them a real experience of hairdressing."
Edinburgh College students Debbie Sloey and Zara Brown were among the 20 competitors, with Debbie following up a recent gold medal at the Association of Hairdressers and Therapists' annual UK-wide competition.
Frances Bain, curriculum manager for hair, beauty and complementary therapies at Edinburgh College, said: "Wella Xposure is a fiercely contested competition and we are very proud of Debbie and Zara getting through to the Scottish heats as this reflects the high standard of work they both produced."
The college's Hair & Beauty Academy at Granton is split into a beauty salon, spa and the college's Wella Centre of Excellence salon, and includes Scotland's first college 'eco' hair and beauty academy.
The new academy is the first of its kind to provide a range of environmental features, including a ceramic fuel cell that uses hydrogen to convert gas to electricity and produce hot water as a by-product.
The academies are open to staff, students and the general public and offer a professional quality service for good-value prices.
Edinburgh College offers a wide range of hair, beauty and complementary therapy courses. Applications are currently invited for these courses and more than 900 other courses across the curriculum offered by Edinburgh College and starting in August on its four campuses.
See www.edinburghcollege.ac.uk for more information on how to apply.