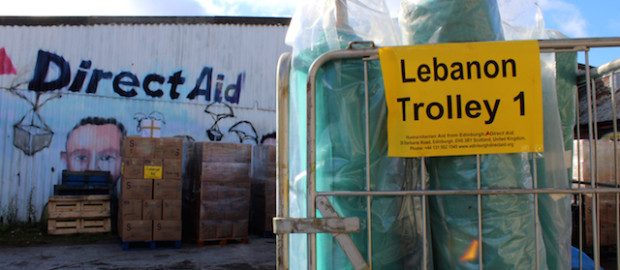 A massive ten tonnes of aid left a depot in North Edinburgh heading to refugees in Lebanon earlier today.
Edinburgh Direct Aid based on West Shore Road organised the haul and had donations from all across the city.
Around fifteen volunteers gathered at the charities yard to load the vital items into the container that will arrive in Lebanon in about six weeks time.
As well as clothes and cleaning products thirty sewing machines were sent over so that volunteers working in the refugee camp can start teaching how to make and repair clothes.
Edinburgh Direct Aid's founder, Denis Rutovitz said "Firstly we have been overwhelmed by the donations that have came in since we made our appeal.
"Companies, community groups and individuals have been arriving at the depot on a daily basis to hand items in.
"The volunteers have worked tirelessly to pack the boxes and load them onto the pallets.
"The sewing machines will be put to great use with the refugees being taught how to make their own clothes.
"I would like to say a great thank you to everyone who has donated and helped us get the much-needed aid to the refugees."
The TRIM Community shop acted as a collection point and many folk from North Edinburgh donated.
TRIM chairman Robert Pearson said ""I am so pleased that so many people dropped off donations at that shop over the last nine days.
"Everyday someone would come into the shop with another bag of donations"
"Thanks to PYCP and Spartans for joining up and working with us and we look forward to working with them in the future"
"I spoken with EDA volunteers today and they send a heartfelt Thank You"
To find out more about the work of Edinburgh Direct Aid visit their website at http://www.edinburghdirectaid.org