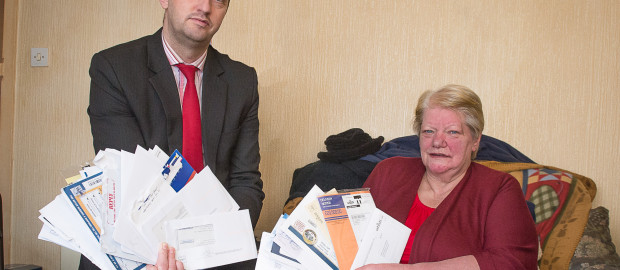 A growing team of volunteers is helping to fight the fraudsters who target vulnerable Edinburgh residents through mail scams.
Crooks use scam letters and phone calls to con people to the tune of billions of pounds across the UK – but the capital's 36 mail marshals are playing a key role in the battle against them.
Scams work by targeting individuals with official-looking documents and promises of lottery wins, psychic messages or health claims, asking for either a small order to be placed or an administration fee to be paid to release the money. Once someone has responded, their details are shared, resulting in them being bombarded with huge amounts of mail.
Mail marshals such as great gran Lynda Simpson, from Broomhall, collect the letters they receive and send it to the City of Edinburgh Council's Trading Standards (TS) team, who then pass it on to the national TS team for further scrutiny. Around 60% of the UK's mail marshals are based in Edinburgh.
Whilst it's extremely difficult to prosecute the perpetrators, the scheme aims to protect victims from further crime by disrupting the system, and providing vital intelligence to help TS officers keep up-to-date with current scams. Those taking part have found that once they stop replying, the letters gradually stop arriving.
Mrs Simpson was referred to Trading Standards via the National Scams Hub, who had become aware that she was being targeted by scammers. The Edinburgh TS team then got in touch to raise their concerns and provide the necessary intervention and support. Lynda is now urging others to be aware of scams and to seek help if concerned.
She said: "I sent money because the person who had written the letter sounded so nice and kind. More and more letters then started to arrive, but alarm bells started ringing when I noticed that they were all asking for the same amount, and were all from the Netherlands.
"I used to get about 10 a day, and that's down to about one a day since signing up. I'm not stupid but they conned me. It's happening to people who are more vulnerable than me who don't have anyone, and that's really horrible."
Councillor Cammy Day, Community Safety Convener for the City of Edinburgh Council, said: "Mail is usually being sent from abroad, so it's difficult to target its source. It's a heartless but very lucrative operation, taking advantage of people's good nature and conning them out of their hard-earned money. These scams can be very clever in their presentation, and can take a variety of forms.
"People should never feel embarrassed that it's happened to them, but be assured that it can happen to anyone, of any age or circumstance. Mail marshals are hugely valuable in helping to stop this, so please get in touch with us if you're worried about it happening to yourself or someone you know, and think you may be able to assist."
Louise Baxter, National Trading Standards Scam Team Manager, said: "For the Mail Marshal project to be a success, it involves all partners working effectively with each other. The work that Edinburgh Trading Standards is doing is crucial to the work of the National Trading Standards Scams Team.
"The project engages scam victims and gathers valuable intelligence for the National Trading Standards Scams Team.  More importantly it provides an alternative support mechanism for victims whilst providing them with choices and the autonomy to manage their own affairs. This leads to consumer empowerment, which is our ultimate aim."
Contact Edinburgh's Trading Standards team on 0131 529 3030 for more information.