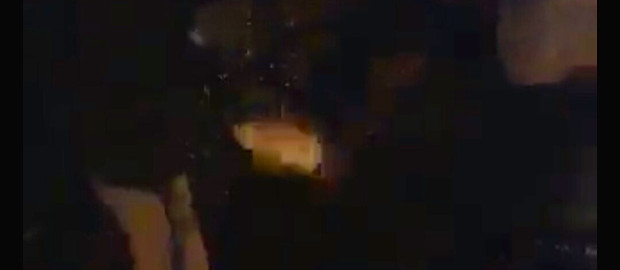 A local teenager was held down and kicked in the face TEN times as pals of her attacker filmed it.
The incident happened in Pilton on Friday night and it's understood the victim suffered a broken nose.
Friends of the thug stood back filming and laughing as their pal held the girl down and assaulted her
After watching footage of the street attack one local said "It's totally barbaric, these girls seem to be aged between 12 and 14.
"The young girl who was battered didn't stand a chance.
"If she fought back the other girls could have got involved.
"Some of the girls took pictures as you can see the flashes from their cameras."
The ringleader, in a light-coloured hoodie, grabs her by the hair then holds her head down while landing a volley of vicious kicks.
She finally punches the girl in the face then walks away.
The victim managed to reach a friend's house and call cops before she was taken to hospital.
Later that night she posted on her Facebook page that she was "sick of everything".
But the brazen attacker boasted online about her role in the video "battering".
The neighbour added: "This youngster could have been killed.
"When people start kicking people in the face and head the consequences can be fatal.
"The video is so disturbing because the noises are horrific.
"This area has been blighted with violence over the years and something needs to be done to stop it before someone is killed."
Police said "We are investigating an assault on a girl of 14."
Editors note: We have decided not to publish the video due to the nature of the attack.