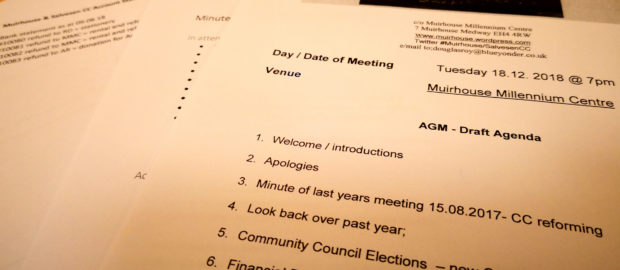 Council Depute Leader, Cammy Day, was the guest speaker at last night's Muirhouse & Salvesen Community Council's AGM to discuss housing and homelessness issues.
Local councillors and community reps attended the meeting and as well as discussing housing and homelessness issues there was an update on the Monday night's meeting about funding cuts.
Another issue that raised concern was a report that 'loan sharks' have been posting flyers through doors on the runup to Christmas.
Chairperson, Audrey Ramsay, welcomed everyone to the meeting at Muirhouse Millennium Centre and gave her report.
She said "We have come quite a long way this year and have developed some great relationships with partner organisations involved in homelessness and housing issues in the local area.
"In the future, we will be looking to hold a planning and training day with our members to nail down our values and aims over the next year or so. We want to get out ducks in a row so we can then take things forward."
One new Community Councillor was co-opted onto the Council at the meeting and treasurer, Roy Douglas, presented the financial report to the meeting.
After this Cammy Day told the meeting about housing issues and homelessness issues facing the council across the area as well as citywide.
Members were keen to hear about the local hostels which are Muirhouse Mansion and Almond House Lodge. Cammy explained how they are owned by a chain who have accommodation throughout the city.
He said "They are part of a chain who we use throughout the city. I have seen photos of people who have been bitten with what must be bed bugs or flees while staying there. If we get complaints about Almond Lodge or Muirhouse Mansion we pass these onto officers to carry out an inspection. But landlords know that we are desperate for spaces and it makes it difficult for us.
"Our Council breaches the rules around housing people in these places and we report it to the Scottish Government, but there isn't enough suitable accommodation.
"In these places, some families are living in two separate bedrooms, and some don't have access to cooking facilities."
Cammy went to provide an update on the homelessness picture across the city and said we currently have around "80-100 people sleeping rough each night."
He explained "Homelessness can affect anyone at any time. We hear reports of people sleeping on scaffolding to avoid being on the ground and being spat on and kicked.
"Despite intervention people still sleep rough mainly because they don't qualify for public funds. Each night we have will 300-500 people sleeping in B&B's in the city. We also have 1,400 homes managed by Link housing that is used for temporary accommodation, and we book rooms in hotels to manage the demand.
"There has been a reduction in the number of people presenting as homeless but the ones we are accommodating are staying in temporary accommodation longer."
To find out more about the Muirhouse & Salvesen Community Council visit their website by clicking here.