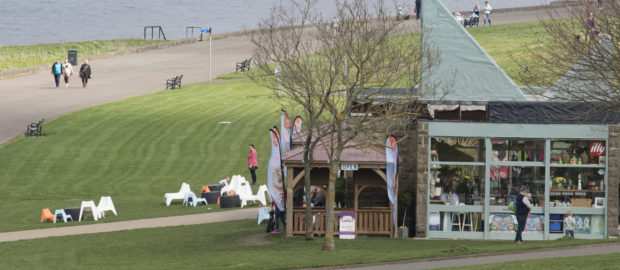 Plans for an inflatable play park at Silverknowes promenade have been approved by the Council.
Cameron Codona applied to operate two inflatables next to the Boardwalk Cafe on the promenade for children to play on during weekends and holidays next year.
Councillors approved the application this week with only one objection.
The inflatable will be no bigger than 35 square feet and will cater for a maximum of 40 people at once on both halves.
Georgia Codona explained: "We found there were a lot of small kids and not a lot for them to do. Never at any point did we suggest it will be a
 fairground.
"We have run events for the last 28 years without so much of an incident.
"You can't apply for a public entertainment licence willy-nilly without a lot of planning and insurance.
"This is going to be a brand new piece of equipment. It will be made specifically for the foreshore and it will be manned at all times.
"I don't see any objections here, just people's opinions. Why not have this as part of a vision for the foreshore. This is one piece of equipment and it will enhance the cafe."
However, Rod Alexander, chairman of Davidson's Mains and Silverknowes Association, spoke out against the plans.
He said: "I can't see how the licensing committee could accept the application with the minimal detail.
"This was a derelict and embarrassing council cafe before the current owner took over and invested a lot of effort into turning it around.
"It's completely unreasonable to consider this sort of site should be situated right on his doorstep, right next to the cafe. He has a serious concern."
"The idea that this event should be situated right on the doorstep of the cafe is completely unreasonable.
"The cafe development has been so positive for Silverknowes. It's a quiet area used for dog walking and fitness.
"If this was for another location at Silverknowes, we would have no objection. I speak to the cafe owner all the time."