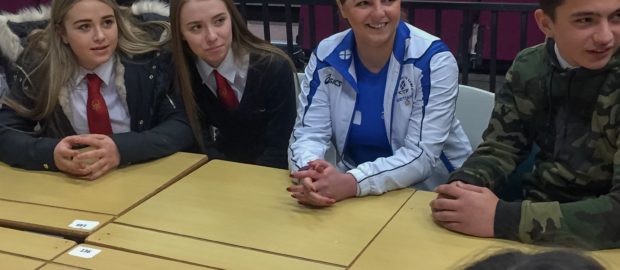 Judo star Steph Inglis delivered a speech to a group of teenagers at Broughton High School yesterday in a bid to warn them about the dangers of joyriding.
The silver medallist was asked to speak at a seminar organised following the death of local teenager Brad Williamson.
Brad, 14, died afer the bike he was riding collided with a car in June and it's understood he was joyriding at the time of the crash.
Yesterday around thirty pupils at his school heard how his death has affected his family.
A teacher read a note from his grandmother who said "Brad has left behind his brother, sister, mum and the wider family.
"Our family have been devastated following the accident and death of Brad.
"Some family members are really not well because of this accident.
"We are still grieving and this will take quite a while to get over.
"What has really shocked me is that within twenty-four hours of Brad's death, teenagers were back out on their motorbikes."
Stepeh, 28, then told of her experience when she was left with just a one per cent chance of survival after falling from a motorbike in May.
After telling them about her time at the Commonwealth Games she explained how her accident has totally changed her life.
She told the group "Since my accident my life has changed completely.
"I am 28 years old and I can't go out on my own and I have had to move back in with my parents.
"I can't remember anything about the accident, all I can remember was leaving work and then waking up in hospital.
"I now have to undergo surgery in January to fit a titanium plate in my head as part of my skull is missing.
"I was wearing a helmet when the crash happened and was still left in a really bad way.
"Motorbikes are not toys they can be really dangerous."
As well as the speakers the teenagers were given talks from the Scottish Ambulance Service as well as the Scottish Fire and Rescue Service.
Chief Inspector Jimmy Jones said "If today's event stops one of these youngsters going out riding motorbikes then it would be successful."