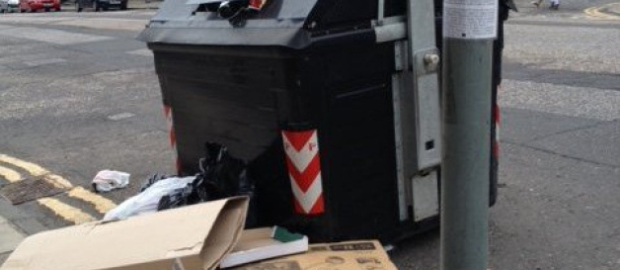 A local couple have been fined £200 for leaving a cardboard box next to an overflowing recycling bin – and litter wardens even tracked them down to their home to issue the penalty.
Sandy and Carol Wood insist they are faithful recyclers and have been punished for trying to do their bit to protect the environment.
And they have threatened to ignore the hefty fine "on principle".
The couple told how a litter warden traced them to their Davidson's Mains home because their address had been written on the side of the offending box.
Mr Wood, 57, who is described by his wife as an "eco-warrior", makes daily trips to the recycling point at his local supermarket.
During a walk with his dog on Thursday, the full-time taxi driver tried to deposit a cardboard box in a recycling bin but found it was full.
He placed the carton at the foot of the bin but was amazed to find two council wardens at his doorstep the following morning to reprimand him for "disposing of domestic waste in an unauthorised manner".
"They encourage you to recycle and then basically you are penalised for it," said the father-of-two.
"This is only because we are an easy option, and they have our address.
"If I was going to dump something on purpose I certainly wouldn't leave my name and address stamped on the top."
Mr Wood offered to retrieve the box from the recycling point but was told it would make no difference to his fine.
Nurse Carol, 56, insisted they would refuse to pay the fee
She said: "This is a matter of principle, I'm really angry because we try to abide by the rules and try to do the things we are encouraged to do. Then we are slapped with a £200 fine.
"Sandy is an eco-warrior and recycles everything in the house that he can."
And she added: "It's not as if he was down at Silverknowes dumping stuff in the middle of the night. That's what I would call fly-tipping."
The family-of-four has five cats and a dog, and became recycling enthusiasts to avoid being swamped with rubbish.
With two children and several pets, the family bin would be full to the brim in three days if they didn't commit to recycling, they said.
Despite the volume of rubbish, the Woods fill just two full black bin bags a week and recycle the rest.
The family has been supplied with recycling boxes by the council but prefer to use the communal bins at their local Tesco.
A council spokeswoman said: "We are currently looking into this situation".