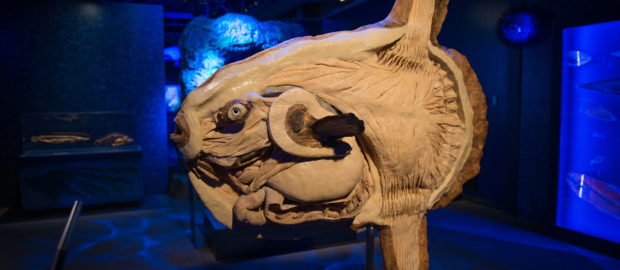 A new exhibition allowing visitors to explore the secrets of life beneath the ocean's waves is coming to Edinburgh.
Featuring incredible cross-sections of animals from whales and penguins to Great White sharks, the exhibition will provide a never-before-seen up-close glimpse of their complex organs.
A first for Scotland, the exhibition opens at the Royal Highland Centre, Ingliston in Edinburgh between 21 September and 18 October and will showcase ethically sourced, real-life specimens of creatures including a Baleen Whale, Whale Shark, Great White Shark, Dolphin, Seal, Octopus, Penguin and Sting Ray.
Visitors to the one-off exhibition will be able to glimpse inside these majestic beasts, learning about the complicated life systems within and why we need to protect precious ocean life.
The exhibition is brought to the UK by Culture Event Creative in partnership with the Scottish Association for Maritime Science (SAMS).
Naz Kabir of Culture Event Creative commented: "Our fascination with the oceans is unwavering and the chance to get up-close and hands-on with these majestic creatures is an incredible experience for children and adults.
"Sea Creatures gives visitors the chance to learn about the animals who inhabit the same planet as us, but very rarely – if ever – cross our paths."
Early bird discount tickets are available now at www.seacreaturestour.com for a limited time only.
Enter the discount code EARLYBIRD20 for 20% off standard prices.
Tickets are on a first come first served basis, so people are advised to book now to take advantage of the limited discount.