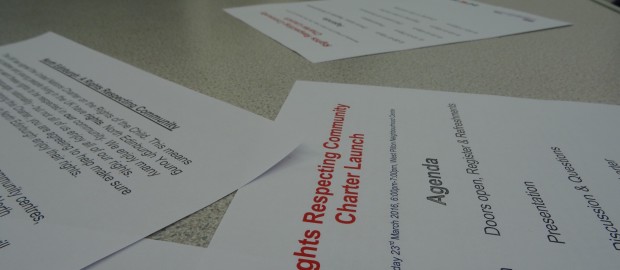 Around 20 people turned up to the North Edinburgh Youth Forums 'Rights Respecting Charter' launch.
The Youth Forum presented to the group about the reasons behind this being around the effect bullying has on people.
They explained "The rights of children and young people is something we feel very passionately about and we are in a position to take this charter out to local young people.
"We focussed the charter around 6 articles from the 'UN Convention On The Rights Of A Child', however we believe that all the right are important."
The articles the Forum are focussing on are:
3 – The best interests of the child must be a top priority in all things that affect children.
6 – Every child has the right to life. Governments must do all they can to make sure that children survive and develop to their full potential.
15 – Every child has the right to meet with other children and to join groups and organisations, as long as this does not stop other people from enjoying their rights.
26 – Governments must provide extra money for the children of families in need.
27 – Every child has the right to a standard of living that is good enough to meet their physical, social and mental needs. Governments must help families who cannot afford to provide this.
39 – Children neglected, abused, exploited, tortured or who are victims of war must receive special help to help them recover their health, dignity and self-respect.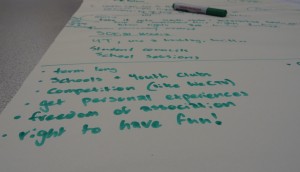 After the introduction the audience split up into groups to look at ideas about the best way to make people aware of the charter.
Some of the suggestions included hosting an Olympics style theme day, interactive sessions in youth clubs, making short videos, posters, banners and many more.
The Youth Forum will now look at the ideas and look at ways to take them forward.
The group thanked everyone for their attendance and made a special thanks to Christine McKay, who retires at the end of this week.
Christine replied by thanking them for their work, she said "The Forum should be very proud of what it has achieved.
"One of the best thing the Forum has doe was to organise the Youth Awards, that was a great way to recognise the work of local young people.
"The North Edinburgh Youth Forum is probably the best in the city and that's down the great work being done."