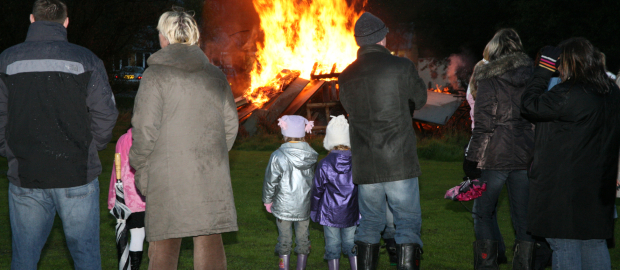 Advice from the Scottish Fire and Rescue Service is to attend a safely organised bonfire and firework display.
However if you must have a bonfire at home make sure it is well away from buildings, vehicles, trees, hedges, fences, power lines, telecommunications equipment and sheds and you must ensure that smoke does not cause a nuisance to neighbours or flying embers endanger neighbouring property.
Never drink alcohol if you are tending a bonfire or setting off fireworks – remember it is an offence to consume alcohol in a public place.
To reduce the emission of harmful smoke and combustion products bonfires should comprise of untreated wood and paper based materials only.
There is a danger of explosion from pressurised containers or sealed vessels amongst bonfire material or irresponsibly thrown on burning bonfires.
Never throw fireworks on bonfires.
Never use flammable liquids to ignite bonfires – use proprietary fire lighters.
Smoke from bonfires must not pose a public nuisance, affect visibility on roads or otherwise inconvenience vehicular traffic.
Sparks, flying embers or burning debris must not endanger nearby property.
Never leave a burning/smouldering bonfire unsupervised – make sure it is completely extinguished.
Any bonfire failing to satisfy safety conditions or where people are behaving irresponsibly may be deemed dangerous and as such, subject to being either removed, extinguished or otherwise made safe.
30th October
If you are aware of a bonfire being built on public land, you should report it to North Local Office 0131 529 5066. All bonfires built on public land will be investigated .
3rd November
Please do not present excess domestic waste in view of the potential outcomes during the forthcoming bonfire night. You are also ,likely to receive a penalty notice from the environmental wardens
4th – 5th November
Please remove all domestic wheeled bins back into the curtilage of your property