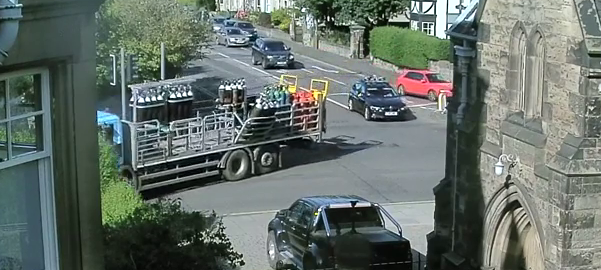 CCTV footage shows the dangerous moment several gas bottles fell off a lorry turning in North Edinburgh
Footage obtained by driving website –  Scotland's Worst Drivers, shows the incident at the junction of Granton Road and Ferry Road on Wednesday afternoon at around 3pm.
The driver who reported the incident immediately to his employers SIG Gas, a division of Dixons of Westerhope, has been confirmed to have not been at fault and a mechanical failure was to blame for the accident.
Director of the company responsible for the incident Marc Dixon said:
"We do take the safety of our transport very seriously and have never had an incident of this kind previously.

"Our investigations have revealed that the incident was caused by the failure of a securing mechanism on the vehicle which was designed to hold those gas bottles securely in position when the vehicle is in transit.
"Whilst the required safety checks were undertaken on the morning of the incident in accordance with the relevant legislation, it appears that the securing mechanism must have subsequently been damaged on one of the various pick-ups or drop-offs which were made by the driver/vehicle over the course of the day.
"Needless to say that the security mechanism has now been repaired and a thorough safety check of the vehicle has been completed"
Thanks to Scotland's Worst Driver