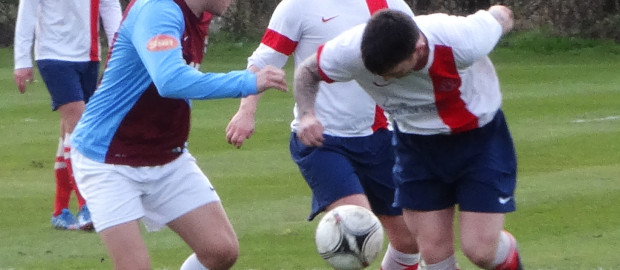 Local football side Civil Service Strollers lost out on picking their only piece of silverware of the season when they went down 2-0 to Lowland League club BSC Glasgow in the South Challenge Cup.
Despite losing Civil proved they can compete at this level and almost scored in the opening minute but a Stevie Moncur shot went just wide of the target.
Civil played well and had chances but failed to really trouble the BSC keeper.
A goal in either half saw the trophy go back up the M8 towards Glasgow.
The Central Taxis Premier Division club has been redeveloping their Marine Drive home as they seek the SFA Ground Criteria licence, which they hope will one day see them realise their ambition of stepping up to the Lowland League.
Civil are carrying out a series of ground improvements to Marine Drive – their home since 1958 – ranging from a perimeter fence to a standing enclosure at a cost of around £40,000 in order to obtain a license at a forthcoming SFA License Board hearing.
"We are receiving a £10,000 grant from the Scottish Football Partnership programme to help us with the construction of a new perimeter fence and a standing enclosure," said chairman Russell Pryde.
"We receive no external funding from The Civil Service Sports Association, so for a £40,000 project we need to raise the other £30,000 from internal club fundraising."
Pryde believes that the contributions from existing and former committee members have been invaluable in helping to get the ground project off its feet.
"Keith Stewart and Tom Brown, who both serve on our committee have both worked extremely hard, whilst Raymond Carr who served on our committee before he returned to Lothian Thistle, aided with the decorating for our hospitality lounge and for that we were extremely grateful."
Pryde says the club do have aspirations of playing Lowland League football in the future, although is well aware that has to be achieved on football merit as well.
"At things stand, it's been hard for a lot of the East of Scotland teams because some don't have the right playing surface or hold ownership of the ground outright to qualify for a licence," he said.
"In recent seasons, the likes of Whitehill Welfare and Selkirk have managed to make the step up from the East of Scotland as part of the pyramid structure, not only with the right kind of funding but with the right football structure as well in terms of player pathway."
"We are hoping to set up an Under-20 team in the near future as a feeder to the first team, so it's vital we get the business and the football right."
"It's been hard for a lot of the East of Scotland teams to qualify for a licence."