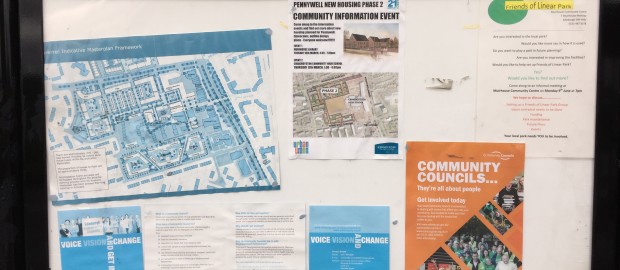 Member of the Muirhouse and Salvesen Community Council expressed lots of concerns about local issues and initiatives at last nights Community Council meeting.
Community Councillor Willie Adams asked councillors "What happens now that the Health Hub has been delayed"
Adams added "Hundreds of thousands of ponds have been spent on this and now it's just stalled.
"It's just not good enough for the people of Muirhouse. Our community deserves better."
Local councillor Cammy Day agreed that this was an issue and he said "This is an NHS project and the Council have lobbied John Swinney over this. I am hopeful that work will start in the summer months."
Community Councillors were also critical about some Council initiatives and the lack of grass cutting and street cleansing in the local area.
Members branded walkabouts with Council staff from the local office as "a waste of time".
John Adams said "We do walkabouts with the Council and point things out to them that need fixed but nothing happens. It's a waste of time going on these walkabouts.
"You call the local office and no one ever gets back to you.
"The Council has piled money into Total Craigroyston and Stronger North and they are not working.
"Staff at the local office are not connected to the local community in anyway whatsoever."
Cammy Day commented "I believe Stronger North is working and local people tell us that things are improving. That is an indicator that it's working."
Willie Adams added "It seems the only way to get money into an area is to let kids run riot and almost murder someone. It's a funny way to improve the area but if money keeps getting cut from budgets there is a backlash.
"The system is wrong and councillors need to take responsibility for this."
The Community COuncil expressed it wish to work with TRIM on hosting a 'Muirhouse Has Talent' event to showcase the vast amount of good work that goes in the Muirhouse area. More on that will follow as we have it.
The meeting also heard an update from Gil Gillies from the North Edinburgh Streetwork Team.