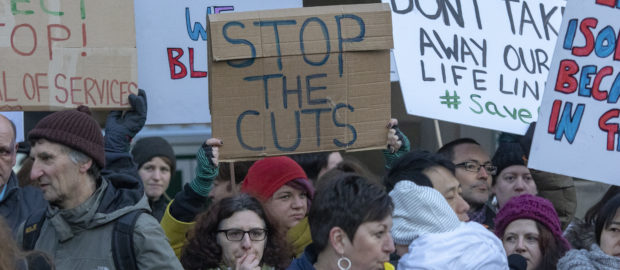 A community led campaign against funding cuts to community projects is to be established in North Edinburgh.
Around one hundred people attended a meeting last night to discuss the community response to the recent funding cuts to community projects in north Edinburgh.
Local worker, Julie Smith, welcomed everyone to Muirhouse Millennium Centre before local activist, Dave Pickering, gave the group an explanation on who and what the Edinburgh Integration Joint Board (EIJB) is.
Following this, Roy Douglas, manager at Drylaw Neighbourhood Centre presented to the group on where this cut leaves them.
Roy said "We work with some of the most vulnerable people in the Drylaw area on a weekly basis. If our centre wasn't open for them they would become totally isolated and then be at risk.
"We also with local young people but if we don't have money to turn the lights on then, the centre won't open. This new application process has been frustrating there were no discussions with City of Edinburgh Council or the NHS on this, and there was no toing and froing on it to try and come to an agreement.
"When we broke the news to some of the elderly folk last week they were in tears. Why is always Greater Pilton that is treated like the black sheep when it comes to funding cuts?
"Maybe Santa will come with a prize for us all next week."
The meeting was told that funding for a few projects had either been cut or withdrawn.
The North West Carers Centre based at The Prentice Centre was also hit by a funding cut and faces an uncertain future.
Co-Director at Pilton Community Health Project, Helen Scammell, said "I'm appalled that our funding is being cut. We are a well respected and managed community project that has been in Pilton for 34 years.
"In our project, we have the Women Supporting Women project which works with vulnerable users. We have also been on developing West Pilton Park as well as work with unsettled immigrants.
"There was no discussion with the funders throughout the process, and there was no impact assessment carried out on individual projects or geographic areas.
"We made a deputation to the EIJB meeting and were given ten minutes to speak, and it has made no difference.
"We will fight this cut with everything we've got."
After the presentations, the group agreed to establish a community led campaign against the cuts and will meet early in the New Year to take this forward.