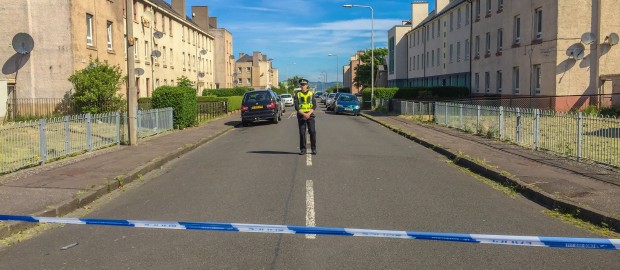 Crime in North Edinburgh has dropped by almost a quarter, with over 1700 fewer crimes reported in the last nine months.The latest assessment of figures pulled from Police Scotland's management information* from April to December 2015 shows large falls in priority areas such as domestic housebreakings and violent crime with reductions of 19 per cent and 26 per cent year on year– and community policing, partnership working and local engagement are being hailed as the key to this significant fall.
Motor vehicle-related crime is down 34 per cent in the north of the capital. The number of recorded crimes of possession of an offensive weapon has dropped by 47 per cent, and crimes of carrying a knife have reduced by 28 per cent. Overall detection rates increased by 2.7 per cent, and by prioritising work to tackle drugs in line with community concerns, offences of possession of such substances rose by 10 per cent.
In a visit to Leith earlier today the Justice Secretary and the Chief Constable heard first-hand how listening to communities and tackling those issues identified as their top priorities have contributed to this drop in crime across the Leith, Leith Walk, Inverleith and Forth ward areas.
Justice Secretary Michael Matheson and Chief Constable Phil Gormley visited officers on patrol in Cables Wynd – an area where concerns about disorder and anti-social behaviour had been raised by local people. Earlier in January a day of action was carried out, which saw officers from a number of different specialist units join up with Community Officers to stop vehicles, execute warrants and seize drugs. Mr Matheson and Mr Gormley witnessed a street surgery where officers sought feedback from the public on the activity that took place, and visits to several properties to carry out further engagement.
Regular joint patrols with Community Safety Wardens are carried out in this area, and mobile CCTV cameras are often used to increase feelings of safety and prevent and detect crime.
Mr Matheson and Mr Gormley also met Anne Munro, the manager of Pilmeny Development Project in the Lorne area of Leith, which works to support residents and groups in North Edinburgh to identify and resolve their concerns with partners.
The Scottish Government is currently undertaking broadest ever initiative to gather views on what the people of Scotland would like from their police service as part of their work, alongside the service and the Scottish Police Authority to continue to develop policing for the future.
Speaking after the visit, Justice Secretary Michael Matheson said: "Community policing is the backbone of our police service and the work being done in north Edinburgh to tackle the issues that are of most concern to the communities in which they are based is very impressive.
"Policing has never been just about enforcement, with prevention and partnership at the very core of Police Scotland, including the valuable partnerships between the service and the communities. The fact that Police Scotland has highlighted these drops in crime just shows that it is a strategy that works."
"Our official Recorded Crime Statistics mirror the downward trend that police in the north of Edinburgh have highlighted today. Recorded crime across Scotland is at a 41 year low, the lowest in a generation, violent crime is at the lowest levels since 1974, crimes of handling an offensive weapon, including knives, are at a 30 year low and dishonesty crimes, including housebreaking, shoplifting and other thefts, fell by eight per cent last year alone.
"But while these statistics are a testament to the hard work our police service and their partners, including the Violence Reduction Unit, it only tells one part of the story. It's crucial that we continue with this collective approach, combined with education and awareness raising, to have a huge impact that is sustainable and effective and will undoubtedly have a lasting effect for future generations."
Chief Constable Phil Gormley added: "Community is the key word here – community policing, engagement, empowerment and responsibility. Here we see a fantastic example of local people taking pride in where they live and coming together with partners to make a difference. The success of this has been supported by community policing teams in Leith and across North Edinburgh.
"Local delivery of policing enables local solutions to be applied to local issues, and where necessary through the support of Police Scotland's specialist teams and external partners.
"Through our own consultation processes and those of the Scottish Government, we will identify any new concerns and continue to positively engage with the public and partners to address these."