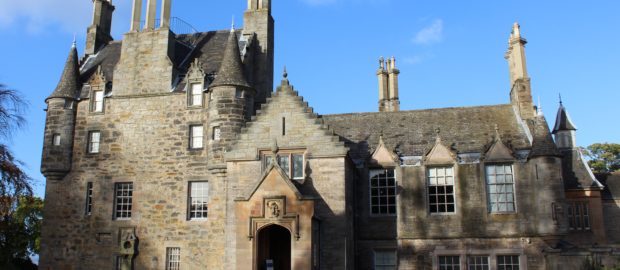 A dementia friendly 'forget-me-not garden' is to be planted in the grounds of a castle in the north of the City. 
At a meeting of the Council's Culture and Communities Committee today (Tuesday 30 January), members agreed to the creation of a specially designed garden and to consider opening a drop-in centre for those with memory loss at Lauriston Castle.
Through sensory planting and reminiscence features, it is hoped the area will provide support for the increasing number of people living with dementia in Edinburgh and raise awareness of the disease for which there is currently no cure.
The area will be designed and managed by the Edinburgh Forget-Me-Not Garden Trust, which is seeking a 25-year-lease (subject to the agreement of the Council's Finance and Resources Committee) to establish a drop-in centre and support network for sufferers and their family, friends and carers.
Councillor Donald Wilson, Culture and Communities Convener, said: "With its calm, tranquil atmosphere, and stunning views across the Firth of Forth, the grounds of Lauriston Castle provide the perfect place to escape from the bustle of the city centre. I can think of no better place for the Forget-Me-Not Trust to plant this beautiful, sensory garden.
"Edinburgh was declared Scotland's first dementia-friendly city in 2014 and over this time we have been working in communities to end the stigma around memory loss. Cramond is one of those areas which has established a great community understanding and respect for people affected by dementia. I am delighted to help the charity as they seek to secure this spot."
Subject to approval, a 25-year-lease of Lauriston's Gate Lodge will allow the charity to apply to major external funding bodies for support.
Patricia Eason from the Edinburgh Forget-Me-Not Garden Trust, added: "Over 800,000 people are living with dementia in Britain and this figure is expected to rise to over 1,000,000 by 2021. Sensory gardens have been planted in many places around the UK and are proven to help people with severe memory loss reconnect to nature and their surroundings.
"Our vision is to plant a beautiful garden in the grounds of Lauriston Castle which will please the senses and allow families, friends and carers to enjoy some quality time and happy memories with their loved ones. Should we secure the lease and funding, we want this garden to provide an oasis of calm in the face of what can be a very difficult disease."