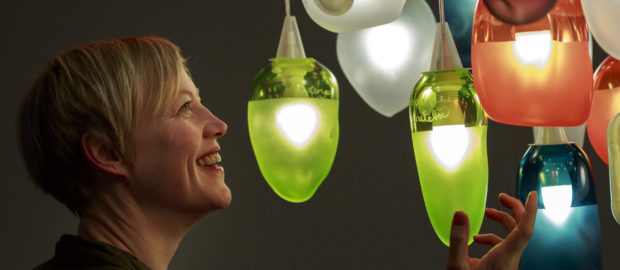 Artist in residence Lindsay Perth puts the final touches to a stunning lighting installation created by North Edinburgh locals and NHS Lothian staff.
The Gless Hoose Collective is one of two new public art commissions created for the new Pennywell All Care Centre.
This slideshow requires JavaScript.
Artist Lindsay Perth has created a stunning interactive glass lighting installation.
Hand blown glass shapes created by members of the community, NHS staff and Lindsay suspend from the ceiling.
Each of the 52 pieces is unique in its colour and shape as chosen by its maker, personally blown and formed in workshops in the glass department of Edinburgh College Art.
When all these highly individual pieces come together they form this 'community' of remarkable glass lights.
Glass makers have engraved their signatures on their pieces, underlining the artworks sense of local identity.
Photos copyright: Alan Simpson