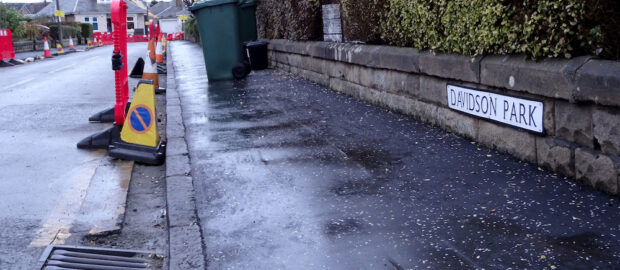 Residents in a street that have been waiting for the council to repair a damaged pavement for over a year were given an early Christmas present last week when the work finally started.
Locals in Davidson Park in Grigor first reported the shocking state of the footpath to the council around 15 months ago.
Since then they have been unable to use it for fear of tripping by the substantial damage caused by vehicles driving on it.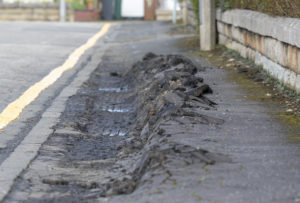 Now that the work is almost complete residents fear the new path will become damaged over time unless the Council install parking controls to stop commuters from parking their cars in the narrow streets.
One resident said "Until there are parking restrictions the problems around here will continue.
"Because so many people who work nearby come and park here it means that delivery trucks and bin lorries have no option other than to bump up the kerb to get into the street.
"Over time that will cause the path to be damaged again.
"The time this has taken us to get fixed is unreal. Fifteen months we have been going on about this.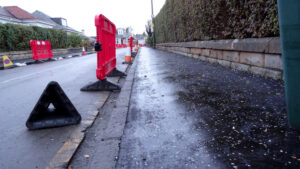 "When the coronavirus pandemic started the council managed to get staff and contractors to install miles and miles of cycle lanes but our pavement was just left.
"We have lots of elderly people who live here who don't feel safe walking around due to the state of the pavements and the numbers of cars that are always moving around."
The work is expected to be completed in the coming days.
Local councillor, Iain Whyte, said "The residents will be happy that the repair they have waited over a year on has finally been carried out.
"If the issues around parking and traffic are still ongoing then I would be more than happy to discuss with locals about what can be done to fix the problem.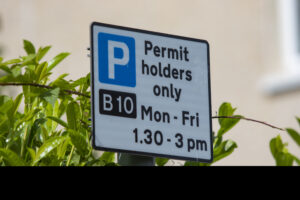 "Hopefully the new pavement will last longer than the previous which was damaged over several years.
"If any resident wishes to discuss this with me that can email on Iain.whyte@edinburgh.gov.uk."
Councillor, Hall Osler, added "Delighted that finally this pavement will be repaired and I am very grateful to all the residents that have pushed so hard to get this done.
"I can quite understand the concern that residents have that with no parking restrictions that all this hard work will be for nothing if individuals are just able to cause the same issues going forward.
"Parking restrictions are due to come in for the area but they are at least a couple of years away.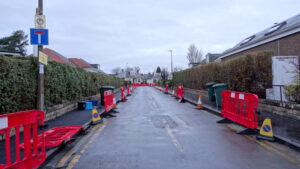 "Unfortunately, this Controlled Parking Zone could not be brought forward as a priority considering the pressure by those working and visiting the nearby Western General Hospital but the Convenor of Transport and Environment felt that areas that presently had no restrictions needed to be dealt with first.
"I will however keep pressing to have this progressed as quickly as possible."
Councillor, Max Mitchell, commented "I really can understand residents concerns as pavement parking continues to be an issue across Inverleith Ward and the city.
"Real damage can be and is done by lorries and larger vans. It's deeply frustrating when residents and their councillors have spent months or even longer lobbying for a pavement to be fully repaired to then have it ruined.
"I understand that the CPZ consultation for the area shouldn't have been delayed too much by the pandemic and the consultation for this phase will hopefully be happening early-mid 2021.
"If residents in Davidson Park and their neighbours want parking controls I hope they will respond formally in support of them."