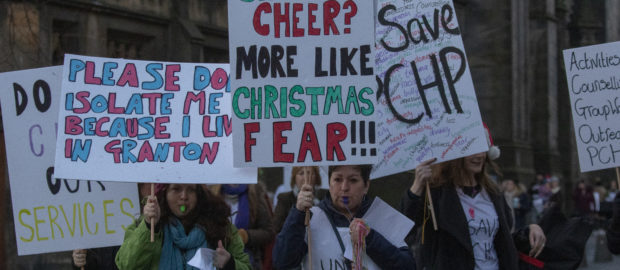 Several community groups across north Edinburgh had vital funding cut at a meeting of the Edinburgh Integrated Joint Board (EIJB) yesterday morning.
The EIJB voted to agree the three-year grants programme to hand out £14m from April, despite £31m of requests from community groups. A total of 35 organisations who currently receive grants were not recommended for renewal.
These include the Pilton Community Health Project and Drylaw Neighbourhood Centre, among others.
Over 100 people turned up to a protest outside the City Chambers ahead of the meeting that would inevitably decide what was going to happen, but this didn't result in any last minute decision changes.
Former MP and MSP Malcolm Chisholm from Pilton Community Health Project, which has worked with some of the country's most deprived communities for 35 years, told the board that the group is "more needed than ever."
He added: "If you don't overturn the recommendation, this project will have to close in March.
"This project is absolutely essential. It's not just local people that will be appalled – this would cause ripples way beyond the Pilton area.
"It has taken no account of the track record of this project, for example, targets have always been met or exceeded."
Moira Pringle, the IJB's chief finance officer, was quizzed by board members after concerns were raised over a lack of feedback for organisations.
She said: "We worked very hard to come up with a process people could get behind and support. We do believe that these do offer the best value for that £14m we have.
"It was decided not to provide individual feedback based on the volume of the applications. We felt it was going to be very difficult and challenging to go around every organisation that had not been successful in this process."
Kirsten Hey, a non-voting board member, called on her colleagues to think about the impact on community groups.
She said: "We are relying more and more on third sector organisations.
"I would like to say to the voting members to consider whether there's anything they could do around requesting a further investment into the impact and right and wrongs of disinvesting in services which we know work and would have a huge impact on people."
IJB chairman, Cllr Ricky Henderson, proposed that finance officers will work with unsuccessful organisations to "ensure that service users are offered appropriate alternative support" and will "assist with identifying alternative funding or restructuring."
He said: "I think we need to be wary of making any decisions that would exacerbate health and inequality and not make any situations worse.
"There was an independent chair to oversee the process to ensure everything was above board.
"The third sector helped to co-design and conduct the whole process and we still support the outcome.
"That gives us confirmation that the process we managed was the correct one, and a fair one."
A community meeting will take place on Monday night at 6pm in Muirhouse Millennium Centre to discuss the next steps.