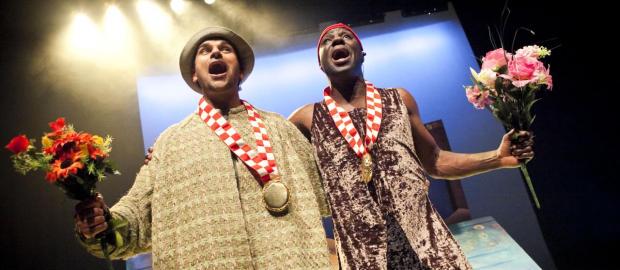 Christmas treats abound at North Edinburgh Arts with
Licketyspit's joyous production of
Hare & Tortoise
Monday 1 – Saturday 20 December 2014
plus
Hare & Tortoise Art, Rhymes and Stories Exhibition
Licketyspit return to their roots with a new Christmas production of the Radcliffe/Arnott adaptation of Aesop's Hare & Tortoise for the 2014 festive season.
First produced in 2001 for Wee Stories Early Years Project, Hare & Tortoise explores the fiercely competitive, ultimately symbiotic relationship between two friends and competitors – the Hare and the Tortoise. Aesop's fable strikes at the root of evolutionary theory. Radcliffe and Arnott's script careers about the Scottish countryside as Hare and Tortoise overcome obstacles, cheat mercilessly and encounter an array of entertaining individuals from Mrs Doodah the Washerwoman to the infamous Brother's Bun and the story ends with an unexpected and delightful twist.
Like all Licketyspit shows, there is no fourth wall and the children's input in the making of the play ensures that audiences feel deeply involved in the story – wearing customised 'Supporter's Hats', cheering on Hare or Tortoise during the show and finally taking the story home to enjoy forever. The show is suitable for everyone aged 3 – 103 years!
To add to your Christmas fun, enjoy the Hare & Tortoise Art, Rhymes and StoriesExhibition from three local primary schools in the NEA gallery and café by three local primary schools and children and family audiences can make a day/evening of it – turning their programmes into puppets and board games; drawing; eating a Bun Brother's Tea or putting a pair of tights on their heads to 'hare' around the newly designed NEA garden (with sandpit, hill and tunnel).
But that's not all. For the first time there are three Family 'Twilight' Shows (Friday 5/12/19December at 5pm) and the three Family Saturdays (Saturday 6/13/20 December at 11am and 2pm) which will offer an array of further exciting events and opportunities at a very festive NEA before and after all performances.
For further information please contact Catrin Sheridan:
Email info@licketyspit.com Telephone  0131 332 0410/2096
Web: www.licketyspit.com  / Twitter: @LicketyTweet / Facebook: Licketyspit Theatre Company
Listings Information:
Venue:                         North Edinburgh Arts, 15a Pennywell Court, Edinburgh, EH4 4TZ
Dates:                         Monday 1 – Saturday 20 December 2014
Times:                         Monday – Thursday: 10am & 1pm
Friday: 5pm (Twilight family show with Bun Brothers Tea)
Family Saturdays: 11am & 2pm plus family fun events & activities
Running time:              80 minutes approx (no interval)
Tickets:                       £8 per ticket (child / adult) (Local £4-£6)
Box Office:                  0131 315 2151
Every ticket comes with a free high quality 'Race Supporters Hat', which can be made into puppets and a board game after the show.
Bun Brother's Tea in the Café
Teacher resource packs available
Hilarious Hare & Tortoise audio-CD's for sale