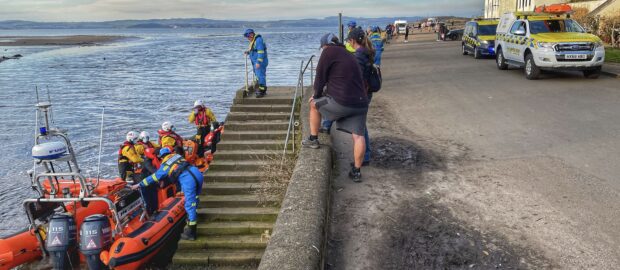 The South Queensferry lifeboat crew were called to Cramond Island on Friday afternoon to rescue stranded walkers – hours after issuing a warning about crossing at a safe time. 
The RNLI team and HM Coastguard attended at around 4.30pm after three men and a woman were cut off by the incoming tide. 
Yesterday's call meant the volunteer team rescued stranded walkers from the Island every day this week.
On Thursday they posted on their Facebook page urging people to check the tide before they cross to the popular attraction.
Their post read: "Every day since Monday this week we have been called out to rescue those stranded on the island when the causeway was cut off by the incoming tide. And to be honest? We wouldn't change that.
"We'd much rather come to the aid of those who need us than have anyone endanger themselves trying to cross the flooding or covered causeway, or by waiting on the island for hours until the tide falls, potentially ill-equipped for the elements. It's what we do."
If you are crossing to the Island please check the safe tide times by clicking here.