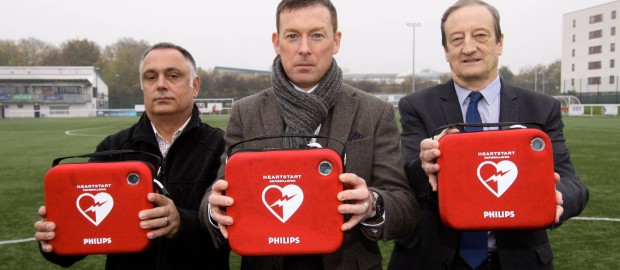 Two local football clubs will be allocated a defibrillator as part of an initiative by the East of Scotland Football League.
Civil Service Strollers, Craigroyston FC and Leith Athletic will all be given the live saving device from the league.
The Scottish Football Partnership has funded the initiative.
The award, for £22,000, allowed the league to purchase the defibrillators for all clubs in membership of the league and also provide training on how to use them.
League vice-chairman John Greenhorn said "We have been looking at ways to secure the funding for some time and we are grateful to The Scottish Football Partnership for agreeing to fund the purchase of these defibrillators.
"We have seen how defibrillators save peoples lives and it's important that we, as a league, ensure that we are doing everything we can for our clubs, players and spectators."
Stuart McCaffrey, Chief Operating Officer at the Scottish Football Partnership said "The Scottish Football Partnership is delighted to be supporting the East of Scotland Football League and its members clubs with financial assistance to purchase defibrillator machines.
"Whilst we hope these machines are never called upon to be used, the league bodies foresight in providing them to all of its clubs should be applauded and could one day, save someone's life"
Jamie Skinner Foundation representative, George Skinner, said "These pieces of equipment save peoples lives.
"Its great that the East of Scotland Football League, through the Scottish Football partnership, is taking this step to issue them to their clubs.
"We spend so much time raising funds to purchase defibrillators so to be awarded £22,000 is amazing."