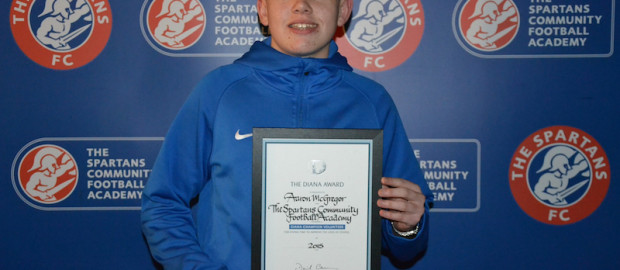 Local teenager Aaron McGregor has become the latest volunteer at the Spartans Community Football Academy to be recognised as a Champion Volunteer at the recent Diana Award celebrations in Glasgow.
The Awards ceremony held recently at the Emirates Arena saw Aaron join dozens of other selfless youngsters who were rewarded for giving something back and making a difference in their local communities across Scotland.
Aaron, 15, who has completed over 700 hours of volunteering at the Pilton-based charity over the last 16 months, was nominated for the prestigious award as someone who 'stands out from the crowd and is an outstanding volunteer' by Academy staff.
The Leith Academy pupil spoke of his delight at receiving the award.
He said "Being part of the event in Glasgow made me feel very humbled and honoured. For the Academy to nominate me for this award has made me realise just how much volunteering can make such a big impact in the community.
"It also makes me feel tremendously valued too. Being part of a great team has helped my confidence too and I hope that in future years I can use these newly found skills within the workplace – whether that is at the Spartans Academy or elsewhere.
The Diana Award is a legacy to Princess Diana's belief that young people have the power to change the world for the better. The organisation's mission is to inspire and recognise social action in young people.
This is the third time a Spartans Academy volunteer has won this prestigious award. Aaron follows in the footsteps of previous winners Kyle Patterson and Lewis Garrity.