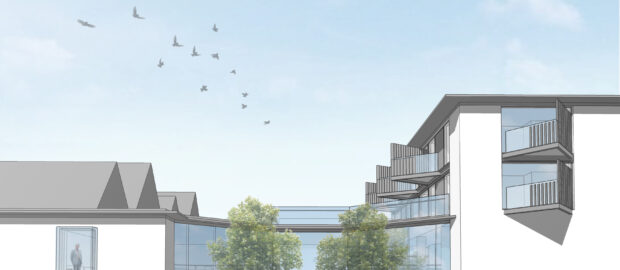 Detailed plans have been submitted today for a new multi-use community hub at MacMillan Square, as part of the wider regeneration of North Edinburgh.
The first of its kind in the city, designed by Richard Murphy Architects, the hub will be a place to learn, work, meet people, learn new skills and have fun.
The state of the art building will accommodate an early years centre for 185 children, a new library and will provide additional space for North Edinburgh Arts and will ensure that  it continues to be at the centre of a creative, connected and inspired community.
The community hub is the focal point of one of the most significant urban regeneration projects in Scotland, tackling poverty and inequality in the area. It will be the flagship building at Macmillan Square which is currently being developed to provide a new square, 154 affordable homes, 13 retail units and a community room.
Over £200 million of public and private sector investment has been committed to revitalising the area for the wider community and this investment has already delivered Craigroyston High School, Pennywell All Care Centre and over half of the expected 1,000 new homes.
The North Edinburgh Regeneration project is recognised as a model of good practice in urban regeneration having won national awards for design, place making and community engagement.
Complementing the Council's new library, early years centre and affordable housing, the new hub will see arts and learning brought together under one roof in a striking new building offering the community in North Edinburgh an extensive range of services.
This will include new enterprise, workshop, learning and creative studio space, alongside an expanded café, youth area and shared atrium.