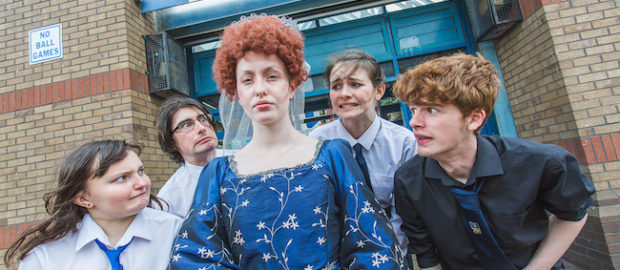 Mary Queen of Scots docked in Leith on Monday with The Edinburgh Dungeon to lead a drama workshop afternoon at Leith Academy.
To celebrate their upcoming new show – Wicked Women – in which Mary makes a star appearance, the performance team at The Edinburgh Dungeon held two interactive performing arts workshops for S4 drama students.
Known for bringing the gripping stories of some of Scotland's most infamous characters and events back to life, the performance team showed the Leith Academy pupils just how they do it by giving them practical insight into life as a Dungeoneer. Encouraged to get into character themselves, they focused on learning how to portray the distinctive movements and characteristics of some of the Dungeon's best known characters as well as learning all about Mary Queen of Scots.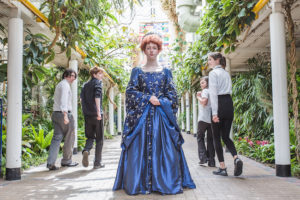 One of the nation's most notoriously feisty females, Mary arrived at the Port of Leith in August 1561 having sailed from France where she had spent her childhood. She later became a prime suspect in the death of her husband – Lord Darnely – and was branded wicked by many of her contemporaries before being beheaded at the bequest of her cousin – Queen Elizabeth I.
"Mary Queen of Scots is one of the country's most famous figures, and the scandalous stories surrounding her life – much of which she lived here in Edinburgh – continue to divide opinion," says Edward Evans, General Manager at The Edinburgh Dungeon. "As we prepare to bring her story back to life as part of our new Wicked Women show it was only fitting that she return to where her Scottish story began. The question of whether or not she was wronged by the history books was left entirely up to the pupils!"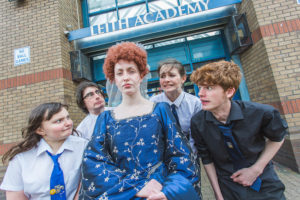 Alison Fair, depute head at Leith Academy, commented: "We were delighted to welcome Mary Queen of Scots back to Leith so our students could learn more about this historic figure and further their drama studies, with a focus on characterisation. The students had a great time, learning the craft of acting but in a fun, interactive way."
The Wicked Women show starts from 1st July and runs until 28th August 2016. Ticket prices start from £11.75 for adults, and £9.95 for concessions (online saver rate). For more information or to book tickets please visit www.thedungeons.com/edinburgh or follow @EdinDungeon for updates.