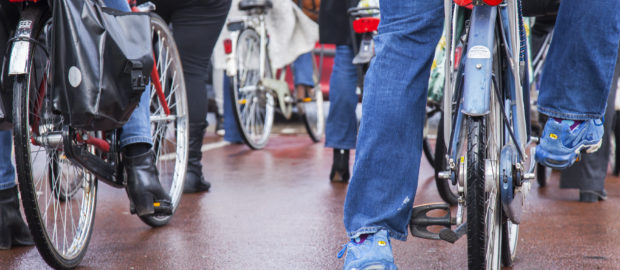 New Advanced Stop Line (ASL) boxes for cycles have been installed at key locations under the second phase of a raft of safety improvements along Edinburgh's tram route. 
The Council's transport team has been working closely with Spokes and Sustrans, in consultation with Living Streets, to develop a programme of road changes aimed at improving safety for cyclists along the tram route, in particular between Haymarket Yards and York Place.
The first phase was implemented in autumn 2017 and consisted of new red-surfaced cycle lanes at a number of key locations to help make it easier to cross tram tracks.
Phase two comprises new ASL boxes at five locations along the on-street section of the route: at York Place/Elder Street, at Princes Street/Waverley Bridge, at Princes Street/The Mound, at Princes Street/South Charlotte Street and at the Haymarket junction (4 ASLs).
Drivers risk a fine of £100 and three penalty points if they enter an ASL when the lights are red.
Transport Convener Councillor Lesley Macinnes said: "We've worked extremely closely with Spokes and Sustrans to bring forward these improvements, which will help keep cyclists safe around trams by giving them more time and space to move off at key junctions along the route."