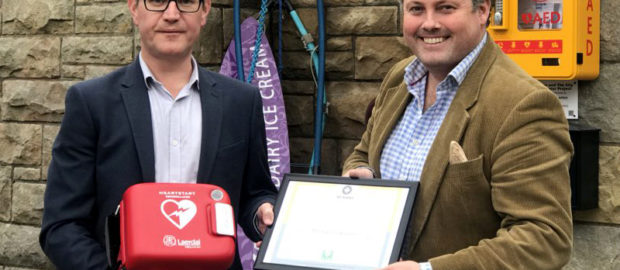 A lifesaving defibrillator has been donated to the Boardwalk Beach Club at Silverknowes.
The money was raised by Edinburgh man, Mike Pinkerton, who raised over £5,000.
As well as the donation to the Boardwalk Beach Club another is installed on a Tram in the town.
Another will be located at the foot of the Scott Monument and another at the newly refurbished Museum of Childhood.
Mr Pinkerton raised the money after having a near-death experience a few years ago.
He said: "I have a very personal experience of this having had a near-death experience some two and a half years ago.
"As it happened I wasn't saved by a defibrillator but by a very able vet who I was visiting at the time up on Queensferry Road to buy some special food for our elderly cat.
"I collapsed in their surgery.
"I am very lucky to still be here and I thought it was a good opportunity to raise some money and to raise awareness of the benefits of people learning how to do CPR.
"Also it is important not to be afraid to use either CPR or defibrillators."
Last year Ron Connelly died after taking unwell during a park run at the popular promenade.
Eddie Tait, who owns the Boardwalk Beach Club, is delighted to take delivery of the new defibrillator.
He said: "It is very important for all the people on the promenade.
"There are many people out exercising, old and young and then there are all the park runners.
"You never know when something might happen, when you might need one. It is a very isolated location here, and we don't benefit from any street lighting.
"It is very secluded with about a mile in every direction to residential areas.
"This is an amazing promenade which is getting busier and with more people you never know when someone might have a cardiac arrest.
"Unfortunately someone did die last year. The gentleman had four children, and although we tried to help him he died later that day."
The Boardwalk Beach Club. is open Wednesday to Sunday from 10.00am to 6.00pm but the defibrillator is available all the time as it is situated outside.
Photo: Eddie Tait