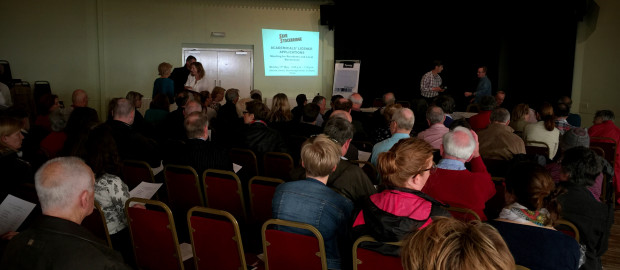 Over 100 people filed into the life Care building in Stockbridge on Monday for the Save Stockbridge meeting.
Bruce Thompson opened the meeting and welcomed the local business owners and residents.
Bruce told the meeting that there had been over 300 objections to the applications. He said "Over 300 objections for each of the 4 applications and 75 in support. Only 25% of locals are supportive.
The Accies have not considered locals, it's an unwanted intrusion on Stockbridge.
"So much has gone on behind our backs.
"Despite this they still haven't managed to split the community of Stockbridge.
"Save Stockbridge didn't object as we understand that The Accies need a venue that is licensed – just not on this scale.
"It has been difficult to get information from The Accies and the Council and this has been the highest number of objections ever."
Bruce claims there has been many errors and flaws in The Accies planning application along the ay but somehow it still got the go ahead.
The chair also explained to the room that during the planning committee they wanted local Councillor Gavin Barrie and Councillor Eric Milligan removed as they had supported The Accies.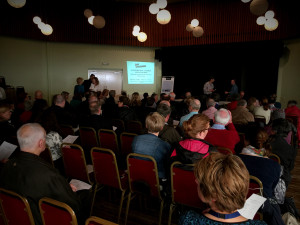 Bruce added "The meeting wasn't an easy meeting to be in. We got a hard time.
'We can and we will continue to make our voice heard and object. We are also considering an official complaint"
The meeting also heard a presentation from Stockbridge Community Councillor Pam Barnes who said "We objected to timing of applications and requested applications were deferred.
"We haven't heard back about our request to defer.
"We believe if this goes ahead this will have an adverse impact on the local community"
The group have agreed to continue lobbying politicians, The Edinburgh Academy and the Council.
A site meeting is due to take place within the next few weeks and a decision made at the next licensing meeting.
Other locals voiced concern that the new capacity is 6,000 and residents were worried this could become a venue to hold music events.
For more information about Save Stockbridge click here.