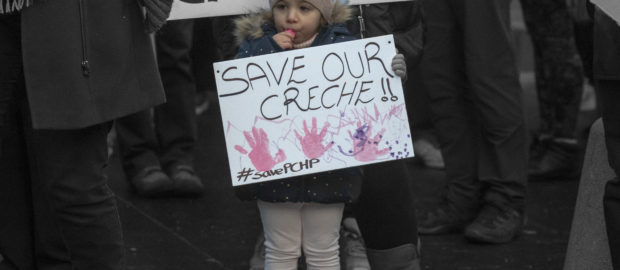 Over 100 local people supporting various local projects protested outside the City Chamber this morning ahead of the Edinburgh Integrated Joint Board (EIJB) meeting.
The protest was organised after local projects were told last week they wouldn't be funded next year – leaving some of them facing certain closure.
This slideshow requires JavaScript.
Early this morning locals bussed it into the town centre for 8.30am to protest before the meeting started.
Adults, youngsters and older people waving placards stood outside as Rhythms of Resistance drumming group made some noise.
We caught up with, Graham Rae, chairperson of Pilton Community Health Project to hear about the devastating impact these cuts will have on PCHP.
You can listen to his comments by clicking the play button below.
Yesterday locals met and designed the placards and discussed how to fight for their project's future.
A meeting will take place on Monday night at 6.00pm at Muirhouse Millennium Centre for locals to come together to create a plan for fighting the cuts.