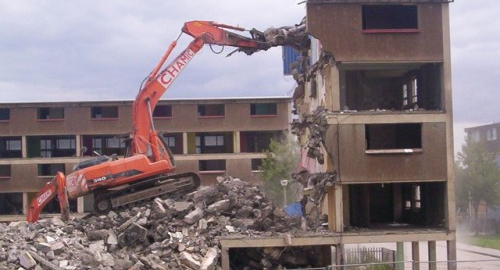 The Scottish Housing Regulator (SHR) has placed Muirhouse Housing Association under a 'medium' level of engagement over its failure to provide assurances
about its development and subsidiary plans.
SHR's updated Regulation Plan for Muirhouse notes that the association plans to grow considerably through new development in the next three years. Muirhouse also has plans to develop a large number of mid market rent housing for the first time and has established a subsidiary to manage the mid-market rent properties.
Given these issues, SHR sought assurances from Muirhouse about its business and its plans to manage the risks involved with its development programme. It also sought assurance about its plans to manage the welfare reform changes including the impact on income, costs and assumptions for arrears and bad debts.
Muirhouse was unable to provide SHR with all of the financial and business planning information it had asked for.
In August 2014, SHR asked Muirhouse to commission an Independent Financial Assessment to provide it with assurance about its financial position, the impact of its development activity and the robustness of its financial planning processes.
The Regulation Plan, which sets out the engagement the Scottish Housing Regulator will have with Muirhouse Housing Association during the financial year 2014/15, noted: "We will have medium engagement with Muirhouse to get a higher level of assurance about its overall financial capacity and viability in light of its development and subsidiary activity."
It added: "Muirhouse will complete the Independent Financial Assessment and we will review our regulatory engagement when we see the findings from the Assessment."
Muirhouse was registered as a social landlord in 1992. It owns and manages 448 houses in north west Edinburgh. It has charitable status and employs around 8 people. Its turnover for the year ended 31 March 2014 was just over £1.8 million.
Brenda Tonner, Director at Muirhouse Housing Association said "As a consequence of MHA's decision in 2013 to develop up to 202 units in the old BT Training Ground site, the Scottish Housing Regulator moved us from "Low Engagement" to "Medium Engagement".
"This is standard practice and developing associations expect to be considered as "Medium Engagement". We have therefore been at this level of engagement since April 2013.
"In March 2014 MHA committed to the second phase of the site, bringing the number of new homes to be provided to 122. This increase in housing stock will increase our overall loan debt from £4m to £12m.
"It is the Regulator's duty to seek assurances about our financial position due to the considerable increase in our loan debt. Our 30 year financial projections confirm viability of the development activity, which form the basis of our business plans.
"Given the significance of the impact of our development activity MHA accepted the Regulator's request and recently instructed an Independent Financial Assessment to consider the robustness of our own financial plans."
The City of Edinburgh Council's Housing Convener, Councillor Cammy Day, said: "The Scottish Housing Regulator has made the Council aware of this issue. We will work closely with Muirhouse Housing Association to ensure that there is no disruption to the services tenants receive."