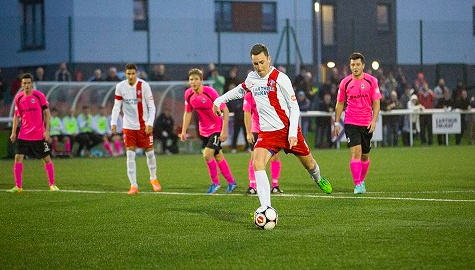 Kevin Swain made a string of superb saves late in the game to secure an important point following a 1-1 draw at East Kilbride.
Dougie Samuel started the same eleven players which won convincingly in the Scottish Cup replay at K-Park in October. The first entertainment of the afternoon came when referee Colin Pensom went to book John Grant, only to realise he'd left his cards in the changing room.
After going to collect them, his return to the pitch was met with a sarcastic cheer and round of applause from the spectators.
It was the home side that opened the scoring after just 11 minutes. The ever dangerous Joao Victoria took on a couple of defenders before slotting the ball into the net from a tight angle.
Spartans responded well and Ally MacKinnon saw his header cleared off the line while Willie Bremner had a couple of strikes on target before the break.
The equaliser eventually came in the 54th minute. A corner kick was handled in the box by Craig Buchanan and the ref pointed to the spot. Jack Beesley continued his fine scoring form at K Park this season by placing the ball into the bottom corner of the net.
The match continued in to be end to end however neither side were able to create many chances. It was the home side however who had the better opportunities in the final moments of the game, however three superb saves from Kevin Swain earned an important point in the Lowland League title race.