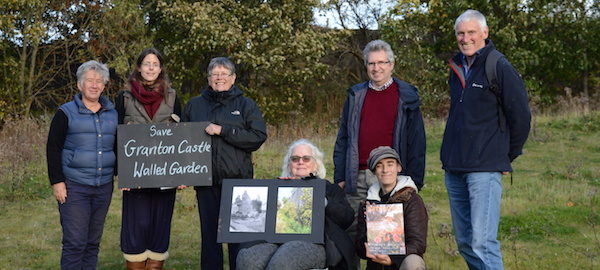 The Friends of Granton Walled Garden have issued the following update.
Some long-awaited news has reached our Friends Group.
Community members first began to raise awareness of the Walled Garden's remarkable historic significance and potential for restoration back in 2013, with petitions and representations made to help safeguard the listed garden in Local Development Plans in 2014.
We have waited until now to hear the outcome….
The Government Reporters have issued their decision on council plans after a lengthy examination process as so many issues were raised in Edinburgh, particularly with regard to new housing developments around the city. Fantastic news for Granton's lost Castle Garden is that it is to be retained as Openspace in the current Local Development Plan, rather than re-designated for 'light industrial and housing use' as requested by Developers. (excerpt from report attached)
City Archaeologist in agreement with Friends Group : the listed garden is a site or Archaeological significance and should be investigated and recorded properly. Environmental Policy 9 applies, is there any trace of the ancient monument Granton Castle left, what might we find in the garden itself?
Botanical Inspiration – News through today of an exciting opportunity to take part in a major exhibition planned at the Royal Botanic Garden Edinburgh in September 2017/18.
What next?
It feels as though we have reached the crest of a hill after a long climb, and can now take a deep breath and look around at the beautiful view. The future of the walled garden if made accessible and restored has such potential. Great ideas have been put forward by community members and the response to our survey has been informative & positive, and we have funding applications pending.
We hope to begin work to make the Walled Garden accessible if an agreement can be reached with the council owned developers Waterfront Edinburgh Limited this autumn.
We have a live council petition gathering momentum with over 300 signatures – save Granton castle walled garden petition and interest being shown from a number of MSP's and councillors in our campaign and visiting the garden itself.
Our next Friends Group meeting is likely to be at the end of July, date, time and venue tba, so if you have any questions or want to come along please get in touch.