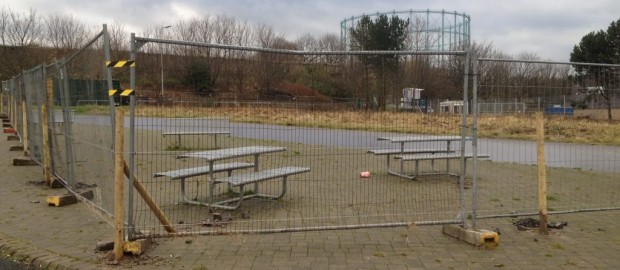 A picnic area and car parking spaces installed at Granton beach – at a cost of £250k – have been 'fenced off' after the council gave the land away on a new lease.
Last week contractors for the new lease holder went ahead and erected fencing that closed off the new cycle path, car parking spaces and picnic area.
Regular users of the area have reacted angrily to this.
Claire Jackson, 31, said "As someone who walks my dog along here every day I think its appalling that the parking bays have been closed.
"There was no advance warning I just arrived last week and it was closed.
"I can't believe the council spent £250,000 a few years ago and then an admin issue has resulted in this being closed.
"Someone at the council needs to put their hands up and take responsibility for this."
The picnic area and improved cycle path were opened in June 2011.
Granton Improvement Society have also been left reeling after learning of this – as this scuppers their plans to build a lido on the site.
In a statement on their website, GIS said: "Is it at all possible that City of Edinburgh Council could believe it owned some scrub land that was a fly tipping area, to make new parking spaces a realigned cycle path and a picnic area for visitors to the world-renowned Waterfront Promenade on the greatest waterfront regeneration there is -only to find that having spent £250k doing it they actually don't own it and it is part of the lease of the industrial site next to it!
"The owner of that site has exercised his legal right to the land and just erected a fence so enclosing the parking spaces and picnic area and blocking of the "new' cycle path. This is not a JOKE it has actually happened at Granton beach the beginning of the cycle path to Cramond. It was also going to be the site of the new Granton on Sea Lido – now what?"
Its understood council officials are now considering the best course of action.