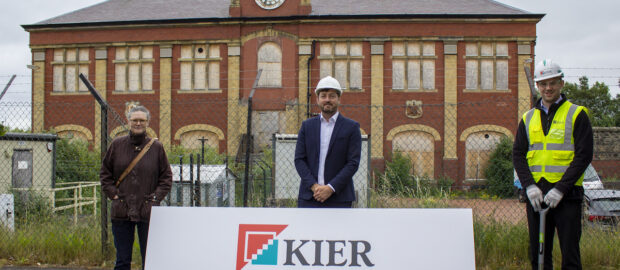 The first spades were put in the ground yesterday to bring the historic former Granton Station back to life as a high-quality creative workspace at a cost of up to £4.75m.
The project will be part funded through the Scottish Government's Regeneration Capital Grant Fund and Town Centre Fund.
The derelict land in front of the building will also once again be used as a public square for community events and recreation to be enjoyed by residents and visitors.
The station site, due for completion by early 2022, is part of the City of Edinburgh Council's Granton Waterfront project, a key sustainable £1.3bn regeneration of this area, which will make a significant contribution to Edinburgh's target to become a net zero carbon city by 2030.
Kier, appointed to carry out the work by the Council in March this year, has undergone health and safety training with local schools.
Local councillor, Cammy Day, said "I'm pleased to see work starting now as the wider Granton Waterfront project is really taking off.
"We've already got three affordable housing sites underway and the former gasholder is illuminated now as a beacon of light for the project for everyone visiting the area to see.
"This is shaping up to be one of Scotland's leading sustainable new districts and being built at the Waterfront it really will be another fantastic place to live, work and visit in Edinburgh.
"We're speaking to the local community every step of the way on the Granton Waterfront regeneration and we've just finished consulting on a new name for the new public square outside the former station, which we'll be announcing shortly."