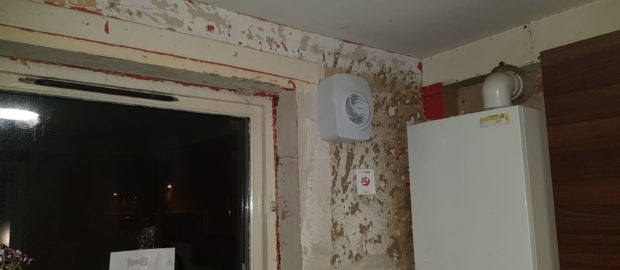 Around 80 homes in North Edinburgh have been affected by the collapse of building firm, McGills.
It was announced last week that the Dundee based company, who have been installing new kitchen and bathrooms in local council homes, had gone into administration.
It's understood that ten houses have been left without any kitchen or operation appliances.
Council staff have spent the last 48-hours visiting affected homes to offer advice and support to tenants.
Pictures sent in by our readers show the extent of the problems being faced by local people.
One resident said "The McGill guys were excellent and were really helpful.
"It's such a shame they have gone bust but I really need my house sorted as I have young kids."
Councillor Kevin Lang said "The collapse of McGills risks causing major disruption to the current work to refurbish Council owned properties.
"I have already been contacted by constituents in Muirhouse who were having kitchens and floors worked on and where they have been left in a dreadful state.
"It will also be a concerning time for others who were due to get their homes upgraded as part of McGill's contract with the Council and who now face uncertainty as to when this work will happen.
"It's now vital that alternative arrangements are put in place quickly so people get the improvements they were promised and they deserve."
Councillor Cammy Day added "I am disappointed to learn of another private company going into administration yesterday.
"Officers have visited any affected properties directly yesterday or left cards for tenants to get in touch.
"The Council will be working with tenants to ensure the work can be delivered but may incur some delays in the programme."
A spokesperson from the City of Edinburgh Council said: "We are in the process of assessing all incomplete works left by McGills. Officers are currently visiting households who were undergoing kitchen and bathroom replacements to update everyone who has been impacted.
"These visits are due to be completed by lunchtime today. Information letters with contact details have also been left with each tenant.
"These tenants will receive a second visit tomorrow to assess the work still required and to draft a plan so that each kitchen and bathroom installation can be completed as quickly as possible.
"We will continue to ensure tenants are kept up to date at all times."