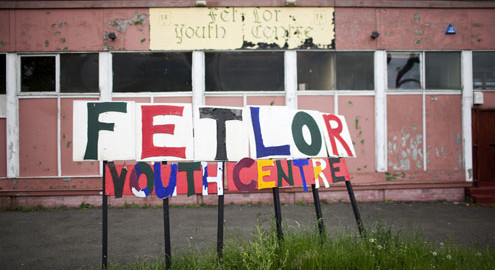 Fet Lor Youth Centre raised over £700 at a silent auction last week.
The management committee are making final strides to raise the remainder of the money to build a new centre.
Some of Edinburgh's successful businessmen and woman joined parents and centre users at the presentation and Art auction in The Urban Village.
Children who attend the popular youth centre on Crewe Road South created all the Art auctioned off.
Chairman Andrew Barrie said "This was something that kids at the centre decided they wanted to do as part of their fundraising.
"Youth participation and involvement is something that we truly believe in.
"We have been going a long time and have been in operation for over 90 years. The past 50 years from our current base on Crewe road South.
"Our reputation in the area is excellent and people trust us.
"We have kept developing and evolving during this time and we will keep evolving and changing going forward.
"We hope to complete the new building work and that has been part of our journey.
"The building will be critical to us.
"The third sector and charities are facing a funding crisis.
"As this spending squeeze happens projects stop working together and become Islands.
"What we need to do is shorten the distance between great young people and some of the amazing projects there are across Edinburgh, Scotland and the World.
"We have had great working relations with Edinburgh College of Art, Fettes College and many more.
"We have also started our own Social Enterprise, Feast, a food enterprise.
"We lease a building to a nursery and that is going very well. As well as being landlords they work with young people and give them opportunities."
Some of the young people who attended said "Fet is really good, the staff are really friendly and helpful.
"For the time I have been at Fet it's been really good. It may look really old on the outside but it's a really good place.
"Fet is one of the best clubs you can go too. I couldn't believe how good the new building looks."
Centre manager Mark Foster, who has been in post for 17 years said "Over my time at Fet Lor it has been a team effort – its not a one man band.
"We work closely with a variety of projects throughout the week and we need to work in partnership with other organisations.
"Despite the negative stories in the media the majority of young people we work with are great.
"Despite the current state of the building we have never been busier."
To find out more about Fet Lor visit their website here