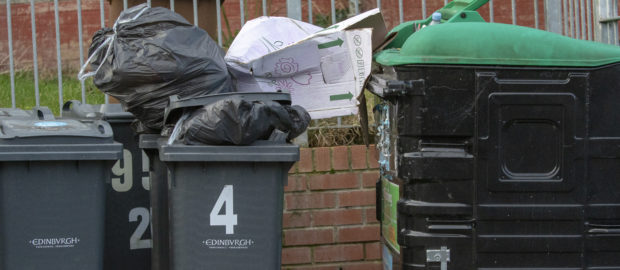 Overflowing bins and missed collections are continuing to cause issues across several parts of north Edinburgh.
Residents have expressed their concern and some claim bins have not been emptied since the week before Christmas.
Pictures taken yesterday show various overflowing bins and bin bags lying on streets around the area.
One resident we spoke to in Royston told how her bin hadn't been emptied for two weeks.
She said "Our bins haven't been emptied for over two weeks.
"I watched the bin lorry in the street last week, but it just drove away from our street – despite us being told that was our collection day.
"We have had to put bags out in the street as we can't keep rubbish in the house – after a couple of days it stinks.
"Everywhere you walk about around here there are full bins and rubbish all over the streets.
"It's disgusting and really needs addressing quickly.
"I bet the town centre bins were all clean for the tourists coming to visit for the Christmas period."
Cllr Gavin Barrie said, "I share residents disappointment and upset that many weeks in to the rescheduling of waste collections it would appear that as an organisation the Council is still not able to carry out collections as advertised to residents.
"Like residents, I look forward to the day when a missed or overflowing bin complaint returns to becoming a rarity rather than a daily or hourly event."
Cllr Kevin Lang said, "The state of rubbish and recycling collections over the last few months has been a complete and utter disgrace.
"Worse still, nobody can yet say with any certainty as to when the problems plaguing this system will finally end."
Cllr Hal Osler said "Just this week alone I have logged over ninety whole missed street collections.
"The SNP/Labour Administration need to take this more seriously, this is not teething problems as they would like us to believe, this is a failing system that needs to be properly resourced."
Cllr Norman Work said "When there are changes to routes and pick up days then it is inevitable that there will be issues but I have been disappointed that the council have not managed to get the new routes sorted out."
"It is important that local residents let their local councillors know if there are any missed collections so pressure can be put in the right places to get these issues resolved."
Cllr Jim Campbell said "Back in October, the Council Administration introduced a Garden Waste charge and changed to a four day collection week.
"I know many constituent have raised their frustration with failed collections and the lack of a timely response when reporting failed uplifts to the Council.
"I am disappointed the Council Administration don't seem to be giving this the priority it deserves."
Edinburgh Council have been approached for comment.