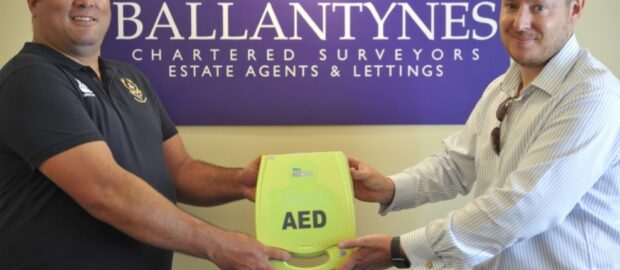 A North Edinburgh rugby club are benefitting from a generous donation of a defibrillator device ahead of their return to action next month.
Estate Agents Ballantynes have gifted a defibrillator unit to Broughton Rugby Club, a valuable and lifesaving asset that will be available for use should any emergencies occur.
Managing Director Rory Ballantyne said, "Like millions across the world, I was shocked and horrified by what happened recently to Christian Eriksen during the Euros, but similarly amazed at how something so readily available saved his life.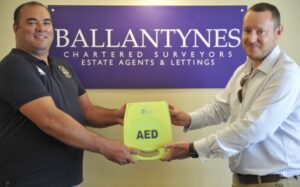 "It made me instantly question, did Broughton, a club I've been associated with for many years, have one? Naturally we hope that no-one at Broughton will never need to use the equipment but it's reassuring to know it's there if needed in an emergency.
"With both a Men's and Ladies team training twice a week and playing at the weekend there are a lot of people around the club of all ages and its good to know they will have the right equipment in place.
"Money is tight now for small clubs like Broughton especially with the loss of income due to the pandemic so if we can help in a small way by gifting this potentially life-saving equipment then I am only happy to do so."
Sandy Urquhart, President of Broughton Rugby Club added, "It's good to know that our players are safe if anything unfortunate was to happen, we now have the tools to respond quickly.
"This defibrillator will save precious time in the case of any life-threatening situations. The first few minutes are absolutely crucial in an emergency and I'd like to thank Ballantynes for their generous donation in providing such an important piece of equipment to our club.
"The club are indebted to Rory and the generosity of Ballantynes who continue to be a loyal supporter of Broughton and we truly appreciate it. "
A defibrillator can potentially save lives by delivering an electric shock to a heart that is beating erratically. It can be used to help heart-attack victims before an ambulance arrives.