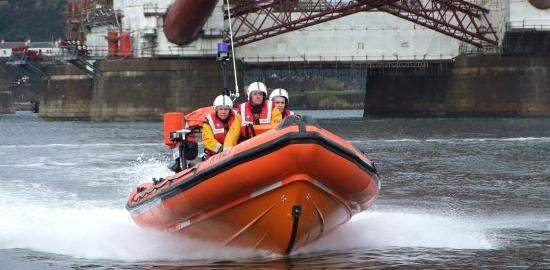 Several people rescued from Cramond Island
Paged yesterday to a person on Cramond causeway immersed well over their waist by incoming tide, and just managed to get themselves ashore as team members arrived onscene. Meanwhile the Coastguard vehicle returned to the top of the road as one of the team members following behind spotted an elderly gentleman collapse at the roadside as he passed.
They were looked after by the Coastguard team until they were passed into the care of the ambulance service for further checks.
Spokesman for the Scottish Ambulance Service Said
" Coastguard requested we attend to a patient who had taken unwell, he was conveyed to Edinburgh Royal Infirmary for further check ups"
Today the RNLI,  spent the morning training some of their new recruits in practical water rescue – now part of the mandatory training for all joiners before they can join the response team. Just as they were  packing up, they were once again paged to 3 persons and a dog stranded halfway along the causeway and well immersed in the incoming tide. RNLI Queensferry Lifeboat and Rescue Helo 999 were both tasked, with the ILB arriving first and conducting a swift pick-off before returning to Cramond harbour.
Two more persons that had stayed on the island were then also brought ashore.
RNLI Posted
A worrying start to the nice summer weather – in just one week we have been called on three separate incidents of people putting themselves at great risk by ignoring all signage and attempting to wade back ashore rather than staying put and calling the Coastguard. Remember, if you see anyone in difficulty call 999 immediately.