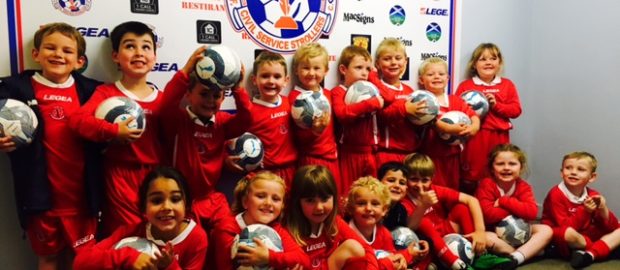 Local football club Civil Service Strollers has launched a brand new kids football school that launched last month – and already has over 120 kids taking part.
The Muirhouse based club plies their trade in the Lowland League and have a desire to offer football sessions to kids from the local area.
We caught up with community coach coordinator Paul Ramsay who explained about the new initiative.
Paul said "I approached the board at the Strollers around August 2016 where I met with a few of their board members.
"We spoke at length about starting up a Youth Development Program at Civil Service Strollers Football Club – having local North Edinburgh kids access facilities at Marine Drive, giving them a platform where they can learn, play and develop in a fun safe football environment.
This slideshow requires JavaScript.
"I just moved into the area from East Lothian where I had previous experience running local youth football teams. My new objective was, and is, to put the Strollers on the map as an alternative football experience where kids of all abilities can participate and enjoy the game of football.
"Currently we have recruited over 120 kids."
The new school currently offers football coaching for kids aged as young as five through to 13 and has groups for both boys and girls.
All the training nights are held locally and throughout the week at Craigroyston Community High School.
Paul added "We have massive potential. The North Edinburgh community is a hotbed of young footballing talent. We must provide the best environment possible to nurture our young local kids.
"We are currently in the process of striking up relationships with a number of cluster schools, providing curriculum football for all ages.
"Building our partnership with Edinburgh College giving Sports Coaching Students access to coaching and work placements within our football club. This will give us the opportunity to really kick on and meet the required criteria as we progress through the SFA Quality Marks.
"The most encouraging thing that we have managed to do is recruit brilliant young enthusiastic coaches who are eager to learn, develop and progress on the SFA Coaching Education Pathway.
If you would like more information about the football school you can contact Paul on 07540 333 407 or email paulramsay.cssfcy@hotmail.com or visit their face book page by clicking here.