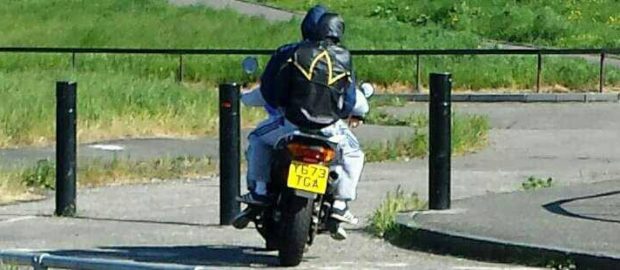 Local politicians have today announced that he will convene a meeting with elected members, community activists and Police Scotland to discuss the current issues with joyriders in North Edinburgh.
The issue with stolen motorbikes being driven around the community has been ongoing for several months.
In recent weeks the joyriders have taken to knocking over cats and assaulting members of the public as they ride through the streets.
Edinburgh West MSP Alex Cole Hamilton said
"In recent weeks, the numbers of young adults racing stolen motorbikes in Muirhouse and Silverknowes has escalated dramatically.

"Local residents have been assaulted and pets targeted.

"This cannot be allowed to continue and I have convened a summit of local elected members, community activists and the police to meet at Drylaw police station in the coming days.

"Lives have already been lost in recent months and I'm determined to stand with residents to bring an end to this terrible situation."
Community activists have welcomed news of the meeting and hope solutions to the problems can be worked out.
Robert Pearson, chairperson of TRIM, said
"We have been highlighting this issue to the elected members for weeks now and we are glad something is being done.

"Everyday we receive messages to our facebook page from locals warning us that the bikes are out and about.

"Locals are really worried that someone is going to get killed by an out of control biker.

"We always encourage locals to report this to the police so they are aware and can try and take action.

"It's not always easy and residents are angry that there seems to be a lack of action by the police when they call them.

"We all hope that this meeting comes up with some ideas on how this problem can be tackled."

We will keep you updated on this summit in the coming days.
"Edinburgh Northern and Leith MSP Ben Macpherson
"I'm fully aware that several instances of anti-social behaviour (on motorbikes) have taken place in West Pilton and the surrounding area this week."

"I would like to assure constituents that I am taking this issue very seriously and have been in regular correspondence with the police and local community groups in recent days. I was in touch straight away with local senior police officers and I'm in regular contact with them. "

"They are working hard to tackle the problem. I've also been in touch with local community groups, like Friends of West Pilton, as well as individual constituents. "

"Tackling this behaviour is a priority for the police – and so the more community intelligence they can obtain the better. Therefore, I would encourage constituents to report all instances of such anti-social behaviour and any relevant information (confidentially) to Police Scotland."

"I've also been in correspondence with other local politicians and community groups about a summit on this issue, and look forward to playing my full part in that meeting. "

"Furthermore, I am considering what other steps I can take to try to assist with tackling this anti-social and dangerous behaviour, by a minority of the community. Since being elected this issue has been a priority for me, and particularly in recent days. "

"If constituents would like to express their concerns to me directly then please do send me an email. I also have my weekly advice surgery at Royston Wardieburn Community Centre between 4pm-5pm on Friday, if residents would like to speak to me about the issue in person".

"I understand that this dangerous, anti-social behaviour is really worrying for residents and a difficult situation. I am here to work for the community, so please do get in touch with me if you feel that would be helpful. Ben"