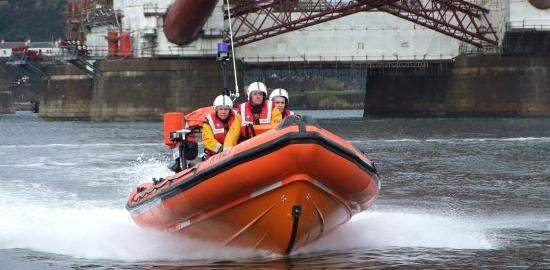 Coastguard and RNLI rescue 4 stranded on Cramond Island
Four rescued at 1am from Cramond Island, despite tide times being available on the causeway, online and via text message the RNLI and Coastguard had to launch during the night.
Called Out at  00:54 – Paged to four persons stranded on Cramond Island. RNLI South Queensfery was able to locate them by the light of their torches, and recovered them all to Cramond harbour a little cold but otherwise ok.

They did the right thing by not entering the water and instead phoning the Coastguard, but midnight is not the best time to find yourself stranded on an uninhabited island with many cliffs and dangerous features that cannot be easily seen in the dark. Safe crossing times are posted at the causeway, and if you check tide times yourself online be sure you can interpret them correctly.