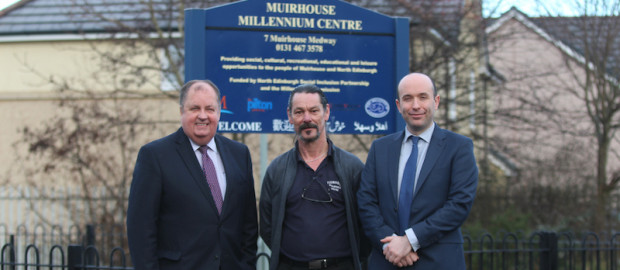 Marco Biagi, the Scottish Government Minister for Local Government and Community Empowerment made a visit to North Edinburgh yesterday.
He visited Muirhouse Millennium Centre along with local MSP Colin Keir.
During his visit centre manager Peter Airlie gave the Minister a tour of the well used centre and introduced him to a few of the volunteers – he even managed a game of new age curling as well as helping the kitchen volunteers.
Peter explained to him about the valuable services the centre provide to the Muirhouse community and explained so ideas the centre has for the future.
Local MSP Colin Keir, who set the visit up, said "The work that the Muirhouse Millennium Centre do is unbelievable.
"They have a great programme of activities for everyone in the community and if it wasn't for the many volunteers the centre couldn't operate.
"The volunteers are a credit to them and their community."
The Minister was impressed with the work of the centre and their volunteers and you can listen to what he had to say below.
Peter added, "Its great the Minister came down for a visit to find out more about what we do and how we do it.
"It was also good to listen to his views about how the different ways community centres operate."