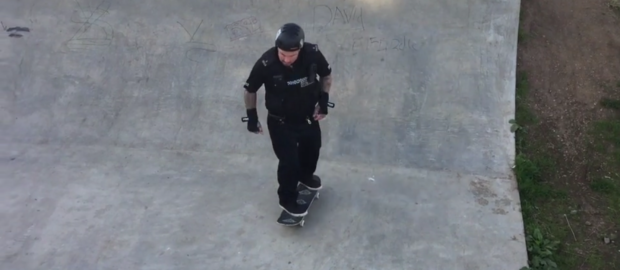 Local community police officer Tony Lawrence has been praised by locals for his new youth engagement tool – his skateboard.
The popular officer has served in the area for over 13 years says it's a great way to engage with youngsters and their families.
Tony, who is also covered in tattoo's and sports a Mohican, takes his board to the Drylaw skatepark a few times a week to meet up young members of the community.
When Tony first went along to the newly built skatepark a video was published online and has now had over 50,000 views.
Tony said "When the skatepark opened I thought it would be a good idea to go along with my board and have a skate.
"I wasn't sure what the bosses would think about it so I didn't make the suggestion until last month.
"When I said to the boss I thought it would be a good idea he agreed and said it was worth a go.
"I thought it would be a great way to engage with the young people on their level and have a skate.
"The Police are here to keep them safe and too many young people are scared of the Police and run away when they see us.
"The Police are human too and we need to be part of our local communities as much as we can.
"That's why I thought it would be a good idea – and it has worked."
Tony wasn't the sure how local people would react to his new engagement method but now youngsters look forward to skating with him.
Hundreds of comments were posted on the video saying how great the idea was and locals praised the officer for his approach.
Tony added "The very first day I went to the skatepark the kids didn't think I was being serious at first.
"I walked up with my board in an evidence bag and one mum asked if that was my board in the bag and she was shocked when I said yes.
"Then I just got onto the park and started boarding.
"At first all the kids were standing looking at me and then they all just started joining in.
"Some of them didn't have boards with them so as I was chatting with the group that were at the park the others were all having a shot of my board.
"There was a right mix of ages from kids with their parents right through to teenagers.
"Then all the kids started asking my name and were showing me their tricks and asking me questions about being a cop.
"As I am covered in tattoos that also creates a talking point amongst some of the older teenagers.
"The first time I went to the park it was busy with families who had younger kids.
"They all came over to see what was going on and the younger kids were trying on my hat and having their pictures taken.
"It went down really well."
Tony also spends time during the week in old folks homes chatting to residents as well as youth clubs and is often in school giving talks.
Police Scotland is committed to engaging with the communities it serves and Chief Inspector Jimmy Jones based in Drylaw said: "Engaging with everyone in our communities, young and old, is a vitally important part of Police Scotland and something which we are committed to maintaining.
"We know from experience that spending time with the public is a hugely positive approach that helps break down barriers, particularly amongst harder to reach groups like younger people.
"By engaging with groups in settings which are more comfortable to them, it demonstrates that officers are always approachable and, hopefully, instil confidence in others to come forward to report a crime."