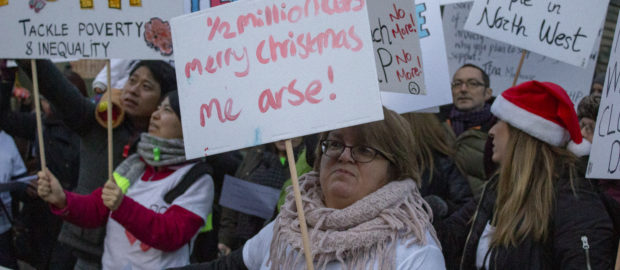 A local councillor has urged the Scottish Government to hand over more money to save vital local community projects after their funding was cut last week.
Members of the Edinburgh Integration Joint Board (EIJB), agreed to give out £14m over a three-year period starting in April, despite receiving £31m of applications from community groups.
Several local community groups who currently receive grants were not recommended for renewal.
At a heated meeting on Friday, Councillor Cammy Day, hit out at a lack of funding from the Scottish Government for requiring the EIJB to cut the funding for groups.
As over one hundred people protested outside the City Chambers, groups highlighted the impact on losing the funding – with some groups set to be closed down in March next year.
Malcolm Chisholm from Pilton Community Health Project (PCHP), which has been working with some of the country's most deprived communities for 35 years, told the board that the group is "more needed than ever".
He added: "If you don't overturn the recommendation, this project will have close in March.
"This project absolutely essential. It's not just local people that will be appalled – this would cause ripples way beyond the Pilton area."
Depute council leader, Cllr Cammy Day, who spoke in support of organisations at the meeting, called on the Scottish Government to think again about how much funding it will make available in its local government settlement, which will be finalised on Monday.
He said: "In one of the most prosperous cities in the country, with all the public bodies, there must be an opportunity to find funding for vital frontline services.
"PCHP does so much for victims of violence and abuse but in three months that's not going to exist. I will be working tirelessly behind the scenes to try and find money for PCHP.
"If that service isn't there, the pressures will just end up somewhere else – having a particular impact on GPs and hospitals. People will end up in mental health units."
"Another £950m has been awarded from Westminster. Surely, some of that can go to delivering frontline services that are saving people's lives."
EIJB chairman, Cllr Ricky Henderson, proposed that finance officers will work with unsuccessful organisations to "ensure that service users are offered appropriate alternative support" and will "assist with identifying alternative funding or restructuring."
He said: "I think we need to be wary of making any decisions that would exacerbate health and inequality and not make any situations worse.
"There was an independent chair to oversee the process to ensure everything was above board.
"The third sector helped to co-design and conduct the whole process and we still support the outcome.
"That gives us confirmation that the process we managed was the correct one, and a fair one."