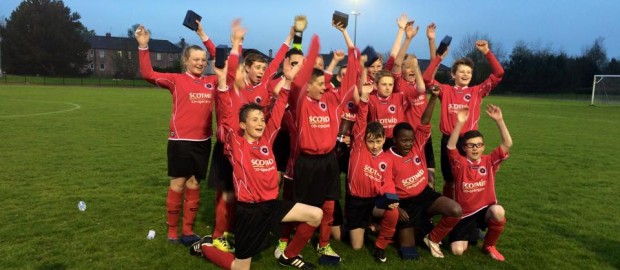 Craigroyston Under 13s are Polar Food Cup Winners
Craigie took on North Merchiston in their 2nd Cup Final of the season
Derek Moorhead takes up the story
Within 3 mins Craigie were 0-1 up thanks to Jamie
Craigie started to settle but slowly North Merchiston came into the game
For about 15-20 mins North Merchiston were the better team. They had a chance to make it 1-1 after being awarded a penalty as Chelsea fouled the North Merchiston forward
Darren kept his nerve as the NM penalty taker shot straight at Darren for him to make a save
This woke up Craigie and they started to press and started to dominate
2 shots were cleared off the line. TylerMckinlay thought he had replicated his goal from the other final when he struck a free kick into the box. The ball ended up in the net but the red hadn't blown so there had to be a retake.
Craigie were now showing their teeth and got their reward when Ben Hunter headed Craigies 2nd
Halftime
North Merchiston 0 v Craigie 2
The 2nd half produced a great defensive performance as Craigie fought to keep their lead
With 15 mins played Ally came on for Chelsea
Craigie were now getting their subs on as Gary replaced Max
Mackenzie replaced Ben
Lewis replaced Christopher Bell
Liam replaced Calum
As the minutes ran down
The ref blew and Craigie went wild.
2nd part of the treble done. Now to concentrate on the last game and hopefully a result that will give us our main objective THE LEAGUE
Scorers
Jamie 1
Ben 1
Squad
Darren
Tyler
Daniel
Calum
Chelsea
Ryan
Chris
Stevo
Jamie
Ben
Max
Liam
Lewis
Ally
Mackenzie
Gary
Brandon
Well done guys. Another winners trophy each. Keep up the good work
Also thanks to all our supporters for your loyal support
Keep behind the team as we give one more final push to win the league
C,Mon The Craigie