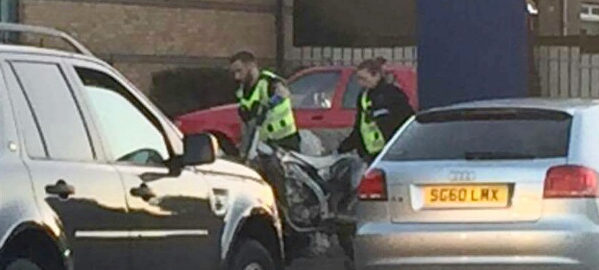 A meeting between police, politicians, community members and service providers took place yesterday morning to discuss the ongoing issue of teenagers riding motorbikes around our community. 
The meeting was organised by local MSP Alex Cole-Hamilton following several reports of joyriding in the area.
Local Police Inspector Stephen Sutherland was in attendance and gave an update on what work is being done by officers in an effort to identify culprits and take necessary action.
PI Sutherland explained to the meeting that this issue is not specific to North Edinburgh and was a city wide problem.
He said "The issue of anti-social behaviour with these motorbikes isn't specific to north Edinburgh, neither is it a new issue around Edinburgh.
"Since March this year the issue in this area has picked up dramatically with the majority of bikes involved being stolen in other parts of the city and ending up being driven around the neighbourhood.
"There are kids as young as ten involved around the bikes and kids as young as 14 riding them.
"Each morning we have our briefing the issue of motorbikes comes up with other commanders across the city.
"These bikes aren't being stolen to order, they are being stolen purely to joyride and many will be burnt out once they have run out of petrol.
"Many tourists have had their holidays to Scotland ruined after having their motorbikes stolen when they holiday in Edinburgh."
When asked about the apparent lack of police action against the youngsters PI Sutherland explained that these investigations took time and pursuing bikes wasn't always an option.
He added "There is a misconception that Police Scotland has a no pursuit policy, this simply isn't the case.
"Each officer has to make a dynamic risk assessment when they see a biker passing them, they have to make the decision whether to pursue or not, that's not an easy decision.
"The last thing we want to do is chase 14-year-old riders through a housing estate putting others at risk.
"It doesn't look good when these riders pull up alongside a police car and goad the officers into chasing them and then the officers tactically withdraw from the area – it's a very difficult situation to be in.
"I would urge anyone who sees people out on bikes to please call us and let us know, if anyone has videos of people on bikes please also send us these.
"All these pieces of the jigsaw help the inquiry team identify individuals."
This morning's meeting was the first of a series of meetings to look at taking actions to try and resolve some of the issues currently ongoing.
Tomorrow we will update on what the local MSP's are doing to assist with this issue.